 3 Stocks To Watch In The Coming Week: Netflix, Procter & Gamble, Schlumberger 
Investors will be fully focused on company earnings releases during the upcoming, Martin Luther King Jr. holiday-shortened week, especially when is running at a four-decade high. With many companies finding it difficult to source materials and manpower, part of the reason for accelerating prices, there could be both negative and positive surprises in store for the fourth-quarter earnings season.
Given the rotation to value stocks this year, both materials and industrials shares are expected to show strong performance. The materials sector is expected to see earnings grow by 62% and industrials by 52%, according to analysts' forecasts, while high-growth technology stocks will struggle to perform better from already elevated earnings expectations.
Earnings growth estimates for the cyclicals are up 9.5% since September, but tech sector earnings estimates are down 1.6%, according to a report on CNBC.com. Below, we've short-listed three stocks from different sectors we're monitoring as Q4 earnings season ramps into full swing:
1. Netflix
Streaming entertainment giant Netflix (NASDAQ:) reports Q4 earnings on Thursday, Jan. 20, after the market close. Analysts are expecting $0.8454 a share profit on sales of $7.71 billion.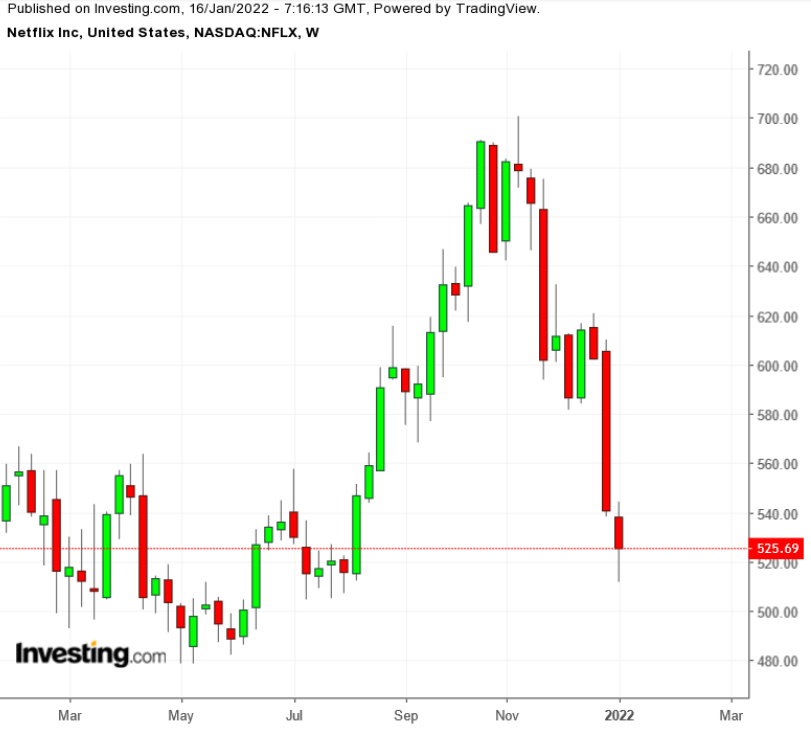 Netflix stock has been under pressure, ever since reaching a record high on Nov. 11. Investors are concerned that increasing competition and low subscriber growth will . To counter a sluggish growth period after posting strong subscriber gains during the pandemic, Netflix last week raised the price of its monthly subscription packages for the US market.
The changes, which were posted on Netflix's website, range from a $1 increase for its basic plan, which allows just one user at a time, to a $2 boost for the premium service, which offers an ultra-high-definition picture and four screens. The company's standard plan now costs $15.49 in the US, a $1.50 increase.
Netflix shares closed on Friday at $525.69, down about 20% during the past three months.
2. Procter & Gamble
Consumer staple giant Procter & Gamble (NYSE:) is scheduled to report earnings for its fiscal 2022 second quarter before the market opens on Wednesday, Jan. 19. Consensus expectations are for earnings per share of $1.66 on sales of $20.34 billion.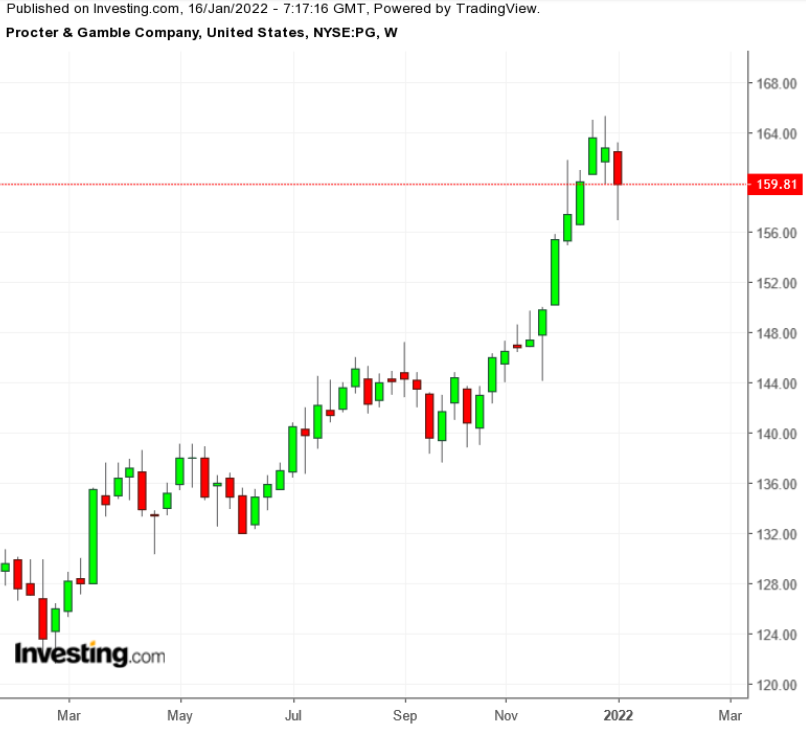 The maker of Downy fabric softener, Puffs facial tissues, and Luvs diapers is among those companies which are being by higher inflation and supply shortages. The Cincinnati, Ohio-based company told investors in October that it expects $2.3 billion in after-tax expenses this fiscal year from elevated commodity and freight costs—an increase from the prior expectation of $1.9 billion.
P&G shares closed on Friday at $159.81, down 2% so far this year. The stock gained about 19% in 2021, benefiting from elevated demand for household essentials during the pandemic. But the rising costs of chemicals, pulp, and diesel are hitting margins at a time when driver shortages are making the transportation of goods more expensive.
3. Schlumberger
With the market showing strength amid surging demand after a pandemic slump, oil and services giant Schlumberger (NYSE:) may report robust Q4 earnings on Friday, Jan. 21, ahead of the open.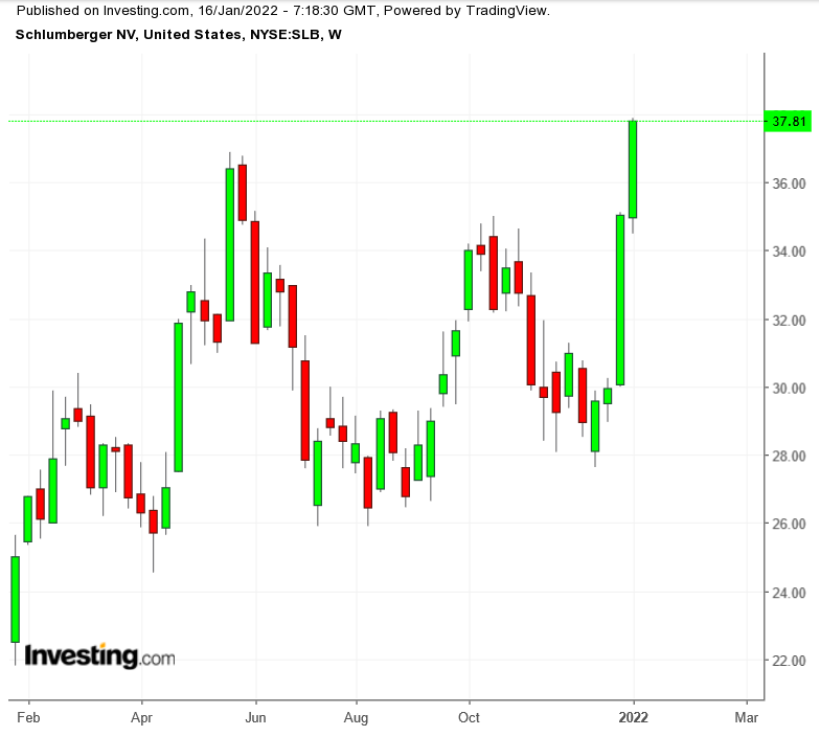 Analysts expect the Houston-based company to produce $0.39 a share profit on sales of $6 billion. In a clear sign that the the company, investors have sent Schlumberger stock surging about 33% from its December low.
This rally is backed by powerful demand for energy products after the pandemic shock that forced Schlumberger to drastically restructure its business.
Schlumberger operates in more than 120 countries, supplying the oil and gas industry's most comprehensive range of products and services, from exploration through production. Shares closed on Friday at $37.81 after jumping more than 4% for the day.