 NASDAQ 100: Despite Recent Drop, 18000 Should Still Be Next
A month ago, see , using the Elliott Wave Principle (EWP), I was looking for the to ideally reach as low as $15135. Then on December 20th, the index dropped to as low as $15509, which was only 2.5% above the ideal target zone, and staged a strong rally into late December, only to give up all those gains and drop to as low as $15165 two days ago.
The index dropped below the December 20th low; thus, I must adjust my POV. In my last update, see , I preferred the option for the (red) intermediate wave-iv low to be complete at the December 20th low, knowing that "since wave-2 cannot move below the start of wave-1, which is the $15509 low, it means the NDX must stay above this week's low." Remember, all we can do is "anticipate, monitor, and adjust if necessary." So what does this additional drop into Monday's low mean?
Figure 1 NDX100 daily candlestick chart with detailed EWP count and technical indicators.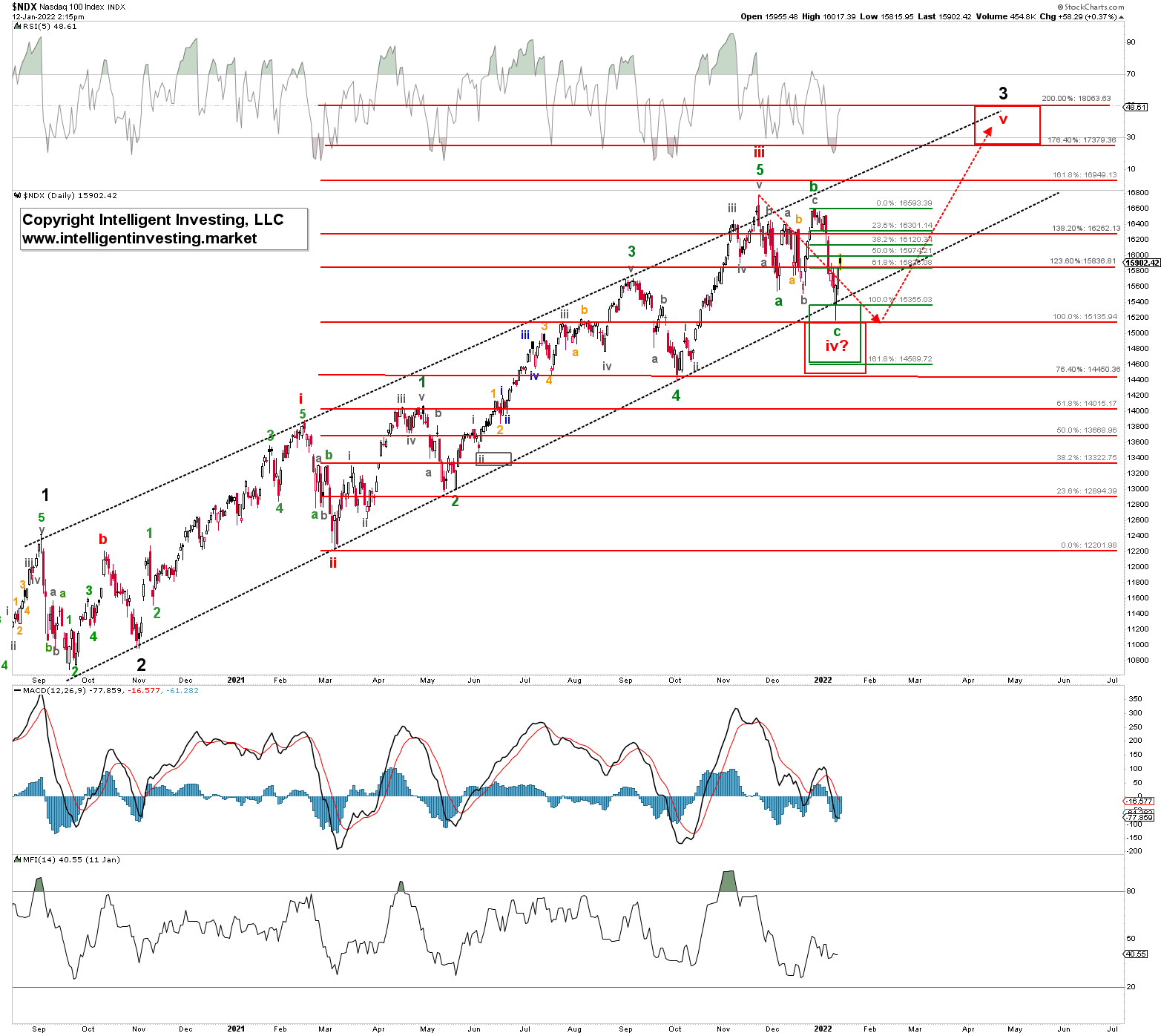 It simply means the index decided to subdivide lower, with the late-December high a smaller (grey, minute) c-wave of a larger (green, minor) b-wave. Thus Monday's low was most likely the completion of (green) minor-c of (red) intermediate-iv for as long as it holds. Namely, subdivisions can always happen like the one we just experienced. We cannot predict them, but we must always be aware that they can happen. Hence, one has to incorporate if/then scenarios using invalidation price levels.
Regardless, the index now has a much more complete and better look to the wave-iv correction: a classic expanded flat. Besides, with the index so far bottoming only 30p ($15165 vs. $15135 = 0.20% !) from the upper end of the ideal wave-iv target zone as forecasted a month ago, it has come as close as it almost perfectly can.
Now the devil is in the detail, and the index can still try for one last stab lower, but if Monday's low holds, I will be looking for five smaller waves up off that low, which would then be minor wave-1 of intermediate wave-v, as the latter will, of course, comprise five minor waves: 1, 2, 3, 4, 5. These five smaller waves have not yet been completed. If they do, then a multi-day pullback should ensue; wave-2. After that, pullback waves 3, 4, and 5 will enfold, ideally to $17400-18060, to complete wave-v of (black) major-3. Since we know with certainty after a 3rd wave follows the 4th wave, by then, it will be time to look for another 15+/-5% correction: major-4.
Bottom Line
The intermediate wave-iv correction was not complete at the December 20th low. Instead, the index took a detour as it subdivided further into an additional b- and c wave to allow the index to bottom out only 0.2% away from the ideal target zone. These extra waves permitted what is called in EWP terms for a (rather perfect) flat correction. Thus, albeit one final stab lower can not yet be excluded, if Monday's price low holds, it is again time to look for an impulse move higher to $17400-18060.