 3 Stocks To Watch In The Coming Week: Tesla, Delta Air, JPMorgan Chase
US equity markets will likely face another volatile week as surging bond yields pressure high growth stocks which have contributed massively to a relentless rally since the pandemic-triggered crash in March 2020.
The first five sessions of 2022 produced huge losses for technology and growth-oriented shares as bond yields rose, fueling expectations that the Federal Reserve will be quick to hike interest rates this year to counter the fastest inflation in four decades.
Amid this interest-rate uncertainty, the fell 4.5% for the week, while the , home to mega cap value stocks, was barely in negative territory over the same period, down just 0.3%, signaling that investors are rotating their funds to value shares, which tend to be more cyclical and offer near-term cash flows.
Below, we've short-listed three stocks from different sectors which we're monitoring as the fourth-quarter earnings season begins:
1. Tesla
Last week, Tesla (NASDAQ:) shares gave up all the gains they made during the first trading day of the year as investors shunned high-growth names on concerns their extremely rich valuations—including for the Austin, Texas-based electric carmaker—are hard to justify when interest rates are expected to rise this year.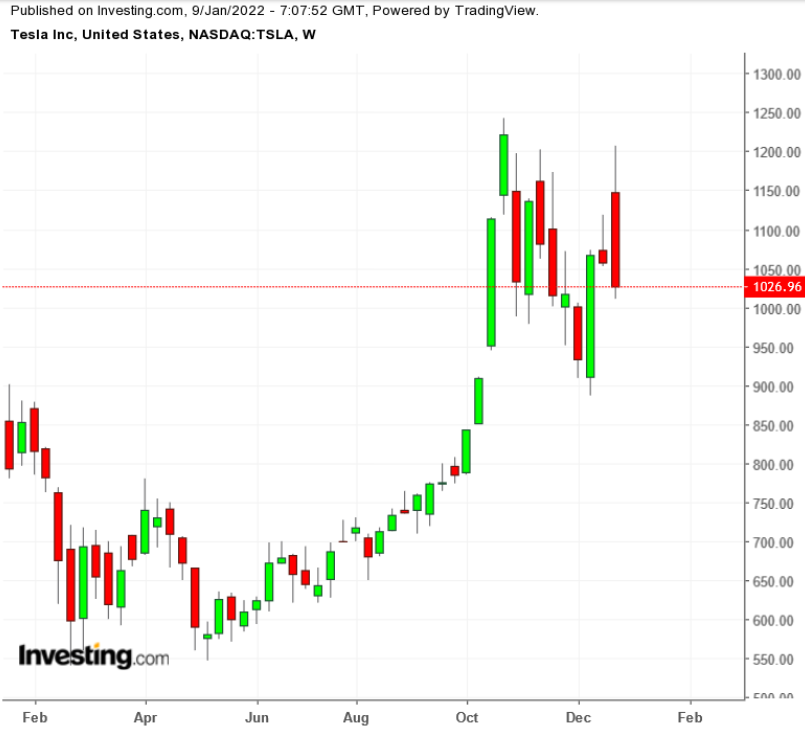 Tesla was off to a strong start as trading commenced in 2022 after the EV manufacturer reported it smashed its record for car deliveries in the fourth quarter. Worldwide deliveries totaled 308,600 vehicles in the fourth quarter, well ahead of the average analyst estimate of roughly 263,000 vehicles, and topping the company's previous record of 241,300 from the . 
Annual handovers surged to more than 936,000 in 2021, up 87% from the previous year's level, Tesla said last Sunday.
But a quick reversal of the past week's early gains show that the stock will remain vulnerable if the macro environment becomes more hostile for growth stocks. Tesla shares closed on Friday at $1,026.96, down almost 17% from their Jan. 3 high of $1,201.07.
2. Delta Air
Delta Air Lines (NYSE:) will report its Q4 earnings on Thursday, Jan. 13, before the market open. On average, analysts are expecting a $0.13 a share profit on sales of $8.86 billion.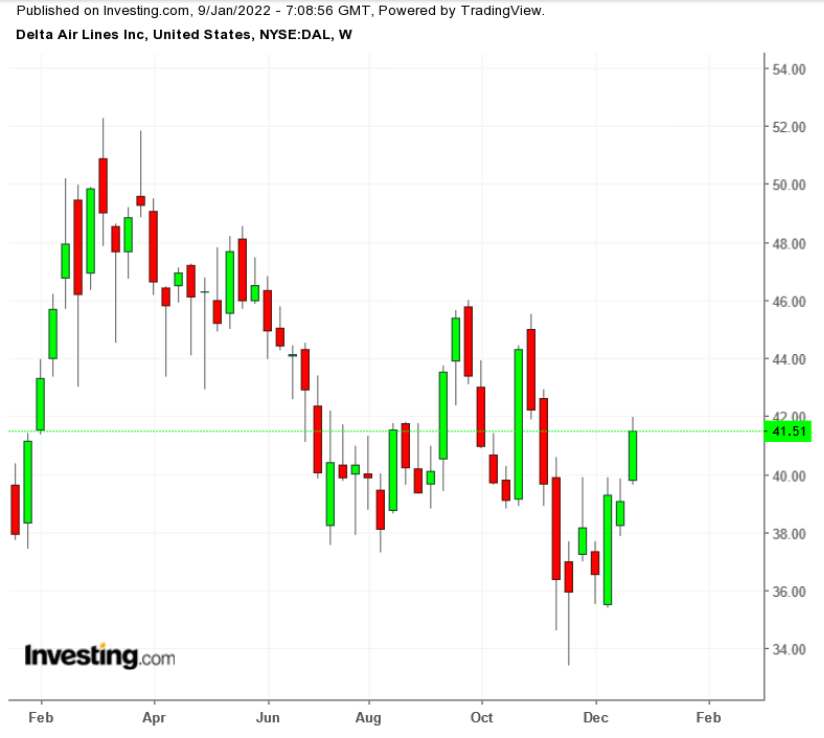 Before the Omicron surge, investors were hoping that the US airline industry would on the back of strong domestic air travel demand. But the emergence of the fast spreading variant has presented new challenges for airlines which are facing staff shortages and sickness. They were forced to cancel hundreds of flights during the busy holiday period in December and afterward. 
Several US airlines, including Delta, are offering financial incentives for most employees to pick up overtime work as the industry struggles with employees who are ill with COVID or observing mandatory quarantines.
Delta stock closed on Friday at $41.51, after falling 5% during the past three months. 
3. JPMorgan Chase
Wall Street's powerhouse commercial and investment bank, JPMorgan Chase (NYSE:), is scheduled to report Q4 earnings on Friday, Jan. 14, before the market open. Analysts forecast $3 a share profit on sales of $29.85 billion.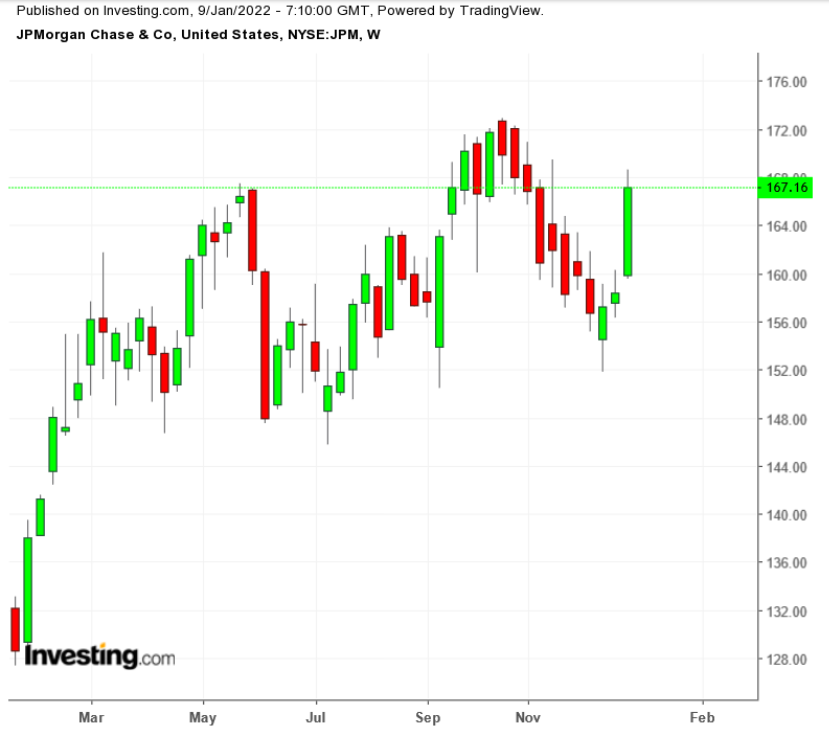 In an environment where investors are expecting the Fed to hike interest rates more aggressively than had earlier been expected, banking shares are faring much better than many stocks in other sectors. JPM stock rose more than 3% this past week, when Wall Street mostly faced losses. Shares of JPM closed at $167.16 on Friday. 
During Q3, JPM benefited immensely from all-time record M&A activity which produced one of the best results ever for total investment banking fees. Going forward, the lender needs to show that it's able to expand its business as the economy rebounds from the pandemic.