 3 ConocoPhillips Trades As Energy Prices Rise And Stock Sees Multi-Year Highs
Houston, Texas-based oil major ConocoPhillips shares are up more than 90% since the beginning of 2021.
OPEC+'s recent announcement has provided tailwinds for crude prices, helping energy names like COP stock as well
Long-term investors could consider buying the dips in COP shares, especially if they decline toward $73.
Investors in energy giant ConocoPhillips (NYSE:) stock have enjoyed returns of about 75% since early 2021. In comparison the Dow Jones U.S. Oil & Gas Index is up about 52.4%.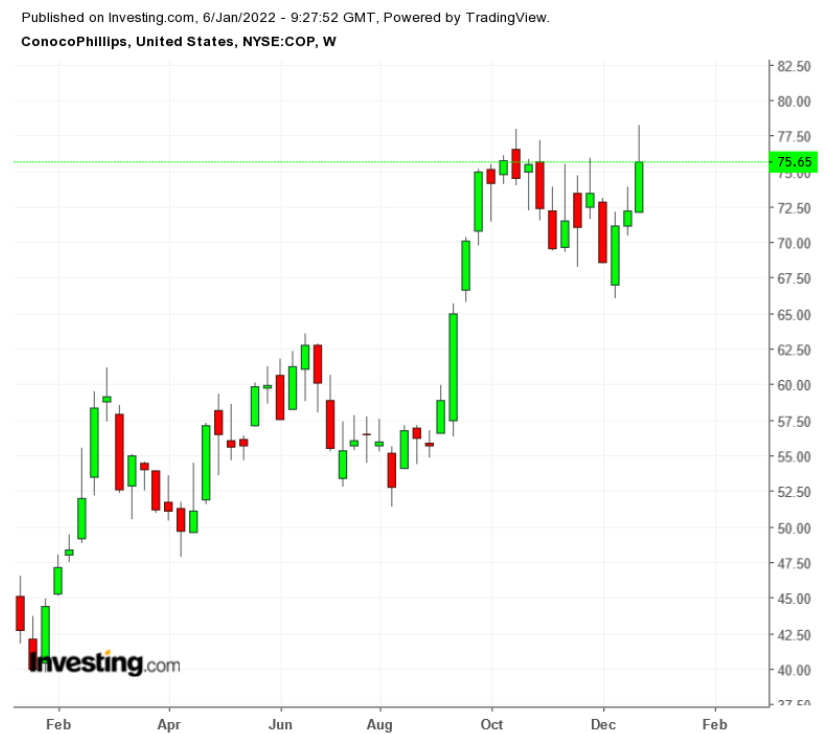 On Jan. 5, shares of COP went over $78 intraday, closing at $75.65 to hover around multi-year highs. The current price supports a dividend yield of 1.11% representing a quarterly payout of 20 cents per share.
COP stock's 52-week range has been $39.70–$78.27. The market capitalization (cap) stands at $99.78 billion as of yesterday's close.
Meanwhile, both and prices have recovered from their recent declines triggered by questions regarding the global economic effects of the Omicron variant.
Oil company revenues and earnings tend to be linked to the price of oil. On Dec.2, decided to . OPEC members, Russia and allies (known collectively as OPEC+) also sounded more optimistic about the potential effect of Omicron on global demand. As a result, oil prices have been on the rise.
ConocoPhillips announced Q3 financials on Nov. 2. Total production, excluding Libya operations, averaged 1,514 thousand barrels of oil equivalent per day (MBOED) for the nine months ended September.
Top line increased 165% year-over-year (YOY) to $11.6 billion. Adjusted earnings were at $2.4 billion, or $1.77 per share, vs. an adjusted loss of $331 million, or 31 cents loss per share a year ago in Q3 2020. Cash and equivalents ended the period at $10.2 billion.
Following , CEO Ryan Lance reminded shareholders of the oil major's triple mandate to:
"…meet future energy demand with the lowest cost of supply production through the energy transition, deliver competitive returns and meet … net zero ambition on operational emissions."
Prior to the release of the quarterly results, COP stock was around $74. Since then, shares have crawled higher, but continued to trade within a range.
On Dec. 6, the company also shared its capex plans and changes to its shareholder return program. Accordingly, via a three-tiered framework outlined, the company expects to boost its 2022 return of capital to shareholders by $7 billion via dividends and share buybacks. That represents an increase of about 16% YOY.
Meanwhile, planned company wide capital expenditures are expected to be around $7.2 billion in 2022. ConocoPhillips will release Q4 earnings figures on Feb. 3 before the opening bell.
Readers might also be interested to know that the next OPEC and non-OPEC Ministerial Meeting will be held on Feb 2. Therefore, there could be increased choppiness in COP stock around those dates.
What To Expect From ConocoPhillips Stock
Among 29 analysts polled via Investing.com, COP stock has an "outperform" rating.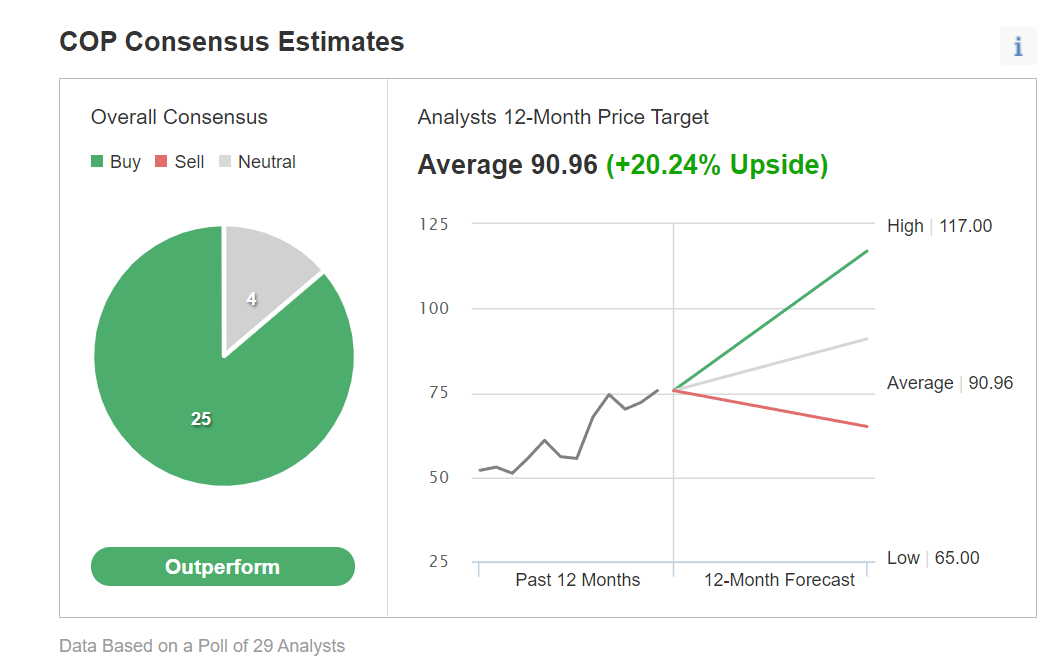 Chart: Investing.com
Analysts also have a 12-month median price target of $90.96 on the stock, implying an increase of about 20% from current levels. The 12-month price range currently stands between $65 and $117.
Source: InvestingPro
Similarly, according to a number of valuation models, like those that might consider P/E or P/S multiples or terminal values, the average fair value for COP stock via InvestingPro stands at $92.10, implying a potential upside of almost 22%.
Moreover, we can look at the company's financial health determined by ranking more than 100 factors against peers in the energy sector. In terms of growth, cash flow, profit and price momentum health, ConocoPhillips scores 4 out of 5 (top score). Its overall performance is rated "great."
At present, P/B and P/S ratios for COP stock are 2.3x and 2.8x. By comparison, those metrics for Exxon Mobil (NYSE:), another oil major, stand at 1.8x and 1.2x.
During January, we expect COP stock to continue to trade sideways, possibly between $67.5 and $77.5. However, the early part of February could be volatile as investors digest quarterly metrics and any announcement that might come from OPEC+.
Nevertheless, despite any potential short term decline, we're bullish on COP shares over the rest of the year.
Adding ConocoPhillips Stock To Portfolios
COP bulls with a two- to three-year horizon who are not concerned about short-term volatility could consider buying the stock around these levels for long-term portfolios. The target would be $90.96, the analysts' consensus expectation.
Alternatively, investors could consider buying an exchange traded fund (ETF) that has COP as a holding. Examples would include the:
Energy Select Sector SPDR® Fund (NYSE:)
iShares U.S. Energy ETF (NYSE:)
SPDR S&P® North American Natural Resources ETF (NYSE:)
WBI BullBear Yield 3000 ETF (NYSE:)
Finally, investors who believe COP stock could continue to reach new highs in the early part of the new year might consider selling a cash-secured put option in ConocoPhillips stock— we regularly cover. As it involves options, this set-up will not be appropriate for all investors.
Cash-Secured Put Selling
Such a bullish trade could especially appeal to those who want to receive premiums (from put selling) or to possibly own COP shares for less than their current market price at $76.50 at time of writing intraday Wednesday.
A put option contract on ConocoPhillips stock is the option to sell 100 shares.
Let's assume an investor wants to buy COP stock, but does not want to pay the full price of $76.50 per share. Instead, the investor would prefer to buy the shares at a discount within the next several months.
One possibility would be to wait for ConocoPhillips stock to fall, which it might or might not do. The other possibility is to sell one contract of a cash-secured COP put option.
So the trader would typically write an at-the-money (ATM) or an out-of-the-money (OTM) put option and simultaneously set aside enough cash to buy 100 shares of the stock (hence "cash secured").
Let's assume the trader is putting on this trade until the option expiry date of Mar. 18. As the stock is $76.50 at time of writing, an OTM put option would have a strike of $70.00.
So the seller would have to buy 100 shares of COP at the strike of $70.00 if the option buyer were to exercise the option to assign it to the seller.
The COP Mar. 18 70-strike put option is currently offered at a price (or premium) of $2.25. An option buyer would have to pay $2.25 X 100, or $225, in premium to the option seller. This premium amount belongs to the option seller no matter what happens in the future. The put option will stop trading on Friday, Mar. 18.
Assuming a trader would enter this cash-secured put option trade at $76.50 now, at expiration on Mar. 18, the maximum return for the seller would be $225, excluding trading commissions and costs.
The seller's maximum gain is this premium amount if COP stock closes above the strike price of $70.00. Should that happen, the option expires worthless.
If the put option is in the money (meaning the market price of ConocoPhillips stock is lower than the strike price of $70.00) any time before or at expiration on Mar. 18, this put option can be assigned. The seller would then be obligated to buy 100 shares of COP stock at the put option's strike price of $70.00 (i.e., at a total of $7,000).
The break-even point for our example is the strike price ($70.00) less the option premium received ($2.25), i.e., $67.75. This is the price at which the seller would start to incur a loss.
Cash-secured put selling is a moderately more conservative strategy than buying shares of a company outright at the current market price. This can be a way to capitalize on any choppiness in ConocoPhillips stock in the coming weeks, especially around the earnings announcement.
Investors who end up owning COP shares as a result of selling puts could further consider setting up to increase the potential returns on their shares. Thus, selling cash-secured puts could be regarded as the first step in stock ownership.