 Alphabet, Apple Top 2021 FAANG Stock Performance With More Upside Ahead
Among the elite group of top five mega cap technology companies dubbed the FAANGs, Alphabet (NASDAQ:) (NASDAQ:) and Apple (NASDAQ:) are on track to deliver the best returns to investors this year.
Shares of the digital ad giant and Google search engine parent company are up more than 70% this year, while the iPhone-maker has gained 39%. These performances were pulled off in an environment where many companies faced supply-chain disruptions, labor shortages, and escalating material costs.
The remaining FAANG group members all gained value in 2021, but the performances YTD were not as stellar: Meta Platforms (NASDAQ:) is up 28% YTD; Amazon (NASDAQ:) rose 8%; and Netflix (NASDAQ:), added 17% so far this year.
Alphabet is on track to cap its best year since 2009, helped by robust demand during the pandemic for its digital ad space from both big and small companies. Alphabet, which makes most of its revenue from Google's advertising business, has seen a sharp rebound in sales with consumers preferring to shop online during the pandemic.
As the work-from-home trend continues, the California-based company's cloud infrastructure business is also expanding, after struggling for many years. In its in October, Alphabet reported a 43% jump in advertising revenue, and a similar increase in YouTube ad sales. 
While other ad-based internet companies, like Facebook and Snap (NYSE:), were hit by the privacy changes to Apple's iOS, Google seems to be faring much better, thanks in part to its control over the Android operating system and lack of reliance on Apple.
Alphabet: More Room For Growth
As well, Alphabet still has significant opportunity to grow. Its shares should continue to outperform, according to a note from UBS this month. While raising the firm's price target on the stock to $3,925 from $3,190, analyst Lloyd Walmsley said the Google-parent was UBS's top stock among internet advertising companies.
The note stated:
"We think Alphabet shares can see positive estimate revisions and multiple expansion on the back of faster-than-expected top line growth and margin inflection at Google Cloud. We think investors are overly dismissive of Cloud's ability to move the needle based on the relative size of its potential EBIT contribution."
For the full year, Alphabet sales are forecast to produce the fastest growth since 2007.
Apple: World's Largest Company Considered Safe Haven Asset
Apple also showed resilience in 2021. Its stock continued to outperform even when other top tech companies faced bouts of volatility.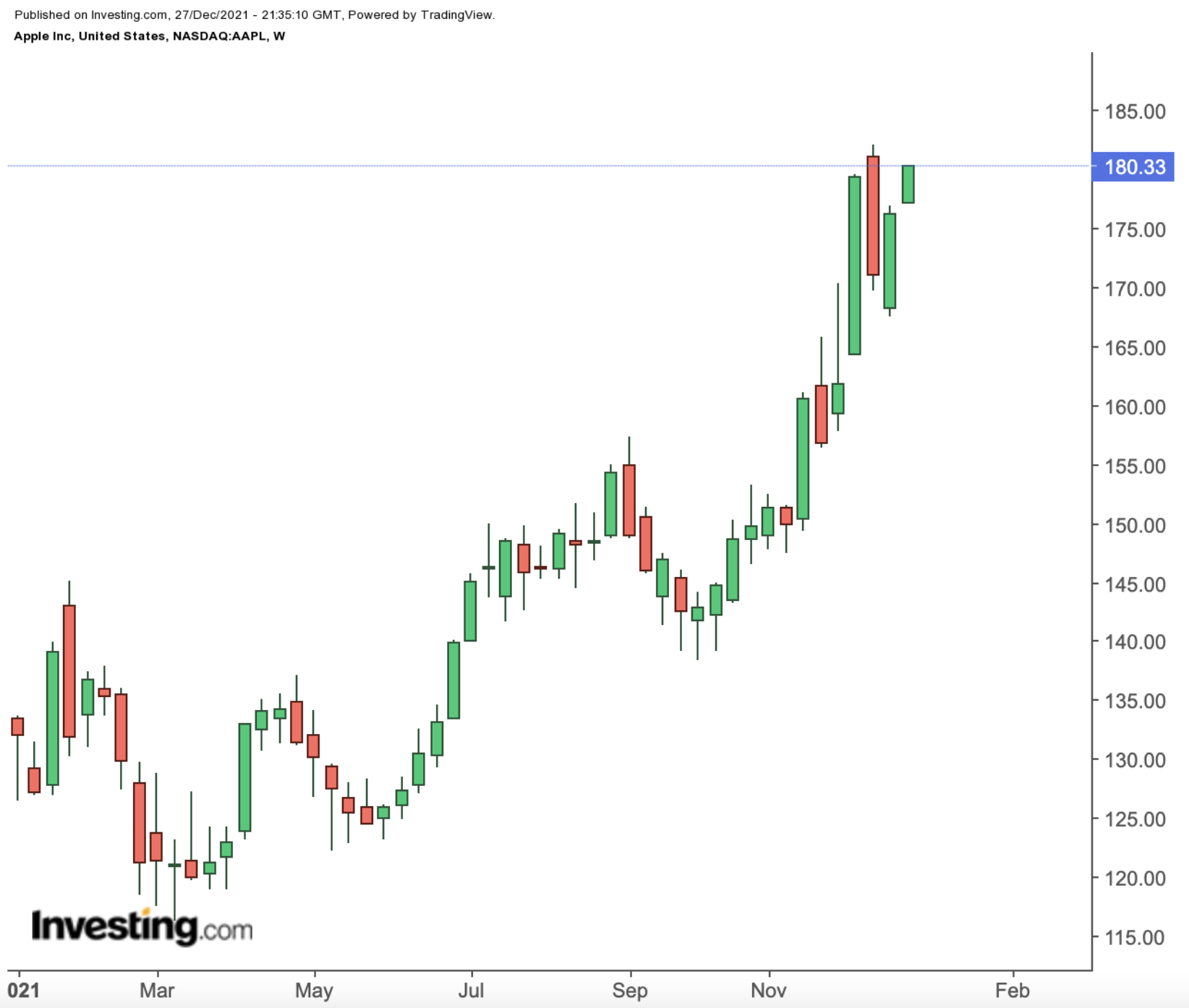 This superior performance was surprising given some evidence that the company is struggling to meet demand as global supply chain bottlenecks continue to hinder its ability to produce more hardware during the crucial holiday season.
One explanation for this unusual strength is that investors now see Apple as a safe haven asset with the ability to endure economic shocks more effectively than some peer equities. The company has a rock-solid balance sheet and more than $200 billion in cash on tap.
The world's largest company by market value, which is roughly 3% short of hitting a $3-trillion valuation, continues to produce very powerful revenue gains across its many businesses. In the previous season, Apple reported a whopping 36% surge in sales, which crossed $81 billion for the three-month period.
Apple's core product, the iPhone, grew about 50%, confirming that this business segment is entering another super-growth cycle despite supply chain issues—fueled by the new 5G-enabled iPhone models. AAPL's wearables, home and accessories segment also grew 36%. That category includes the Apple Watch, AirPods, Apple TV, the HomePod and various other accessories.
Morgan Stanley's Katy Huberty, in a note this month, raised Apple's price target from $164 to $200, saying that new products from Apple, like an augmented reality headset or self-driving car, aren't yet baked into the share price.
Her note said:
"Today, we know that Apple is working on products to address two significantly large markets – AR/VR and Autonomous Vehicles – and as we get closer to these products becoming a reality, we believe valuation would need to reflect the optionality of these future opportunities."
Beyond the FAANGs, Microsoft (NASDAQ:), NVIDIA (NASDAQ:) and Tesla (NASDAQ:) are other tech mega cap stocks that have thus far outperformed the benchmark index in 2021, showing investors' preference for owning high quality companies with profitable growth track records.
Bottom Line
The dominance of these tech behemoths in 2021 marks a shift from the broad-based recovery that we saw after the market crash in 2020. Investor preference for the top-tier tech companies also indicates they are seeking safety as the Federal Reserve signals interest rate hikes, the pandemic continues to rage, and the global economy struggles amid supply-side bottlenecks.