 S&P 500 Surged Last Week But Strength Not Confirmed By Other Major Indices
The surged the week of December 23, rising by more than 2.25% to finish at a new closing high on Thursday. However, looks can be deceiving because the strength in the S&P 500 wasn't confirmed by any of the other major indexes. The is still more than 3.5% off its intraday highs on November 22, while the is still about 2.5% off of its high, the is down by more than 8%, and the is still 1.75% off its high.
Meanwhile, big mega-caps like Apple (NASDAQ:) are still 3.1% off their highs, while Microsoft (NASDAQ:) is 4.1%, with NVIDIA (NASDAQ:) and Tesla (NASDAQ:) nearly 14% off their highs, as Amazon (NASDAQ:) is 9%. What is worse is that the only major sector to close at a new high on Thursday, along with the S&P 500, was the health care sector (). Every other major sector, even technology, finished Thursday below their all-time highs.
So what are we to make of this with only the S&P 500 finishing the week at a new all-time closing high, while many stocks and sectors that drive the S&P 500 higher are well below their closing highs. Well, it tells us first that the S&P 500 seems to benefit from sector rotations, with the beaten-down sectors rallying just enough to give the broader index a boost. The overall weakness in the market is not represented in the S&P 500 index.
S&P 500 (SPY)
Also somewhat odd was the SPDR® S&P 500 (NYSE:) did not finish at a new closing high either. The record was $470.74 on December 10. Interestingly Thursday's close was $470.60, the exact closing on December 15.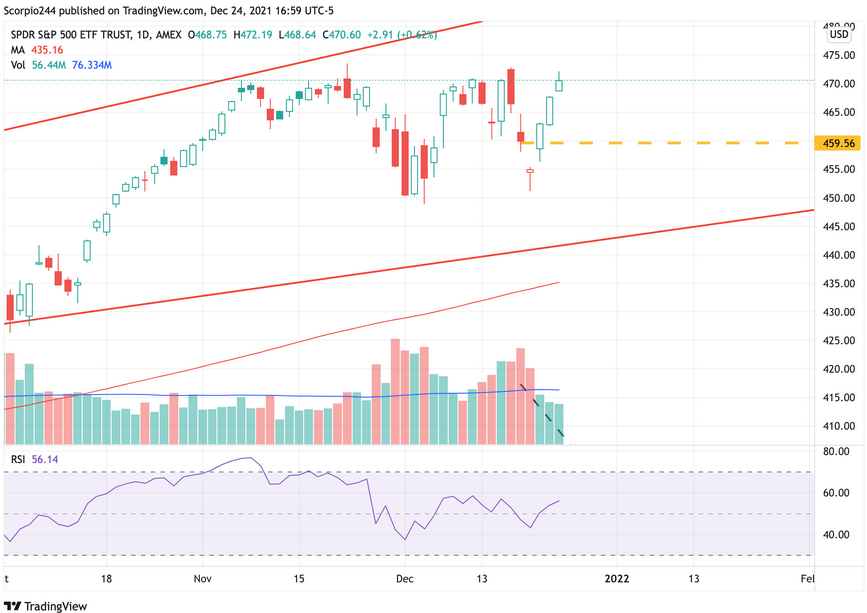 Interestingly, the percentage of stocks with a golden cross, a 50 day moving average above the 200-day moving average, has fallen to 78.6%, which sounds high, but consider that it is down from 97.4%. While the data set on this only goes back 5-years, there wasn't this type of divergence to this large degree in the S&P 500 in the past.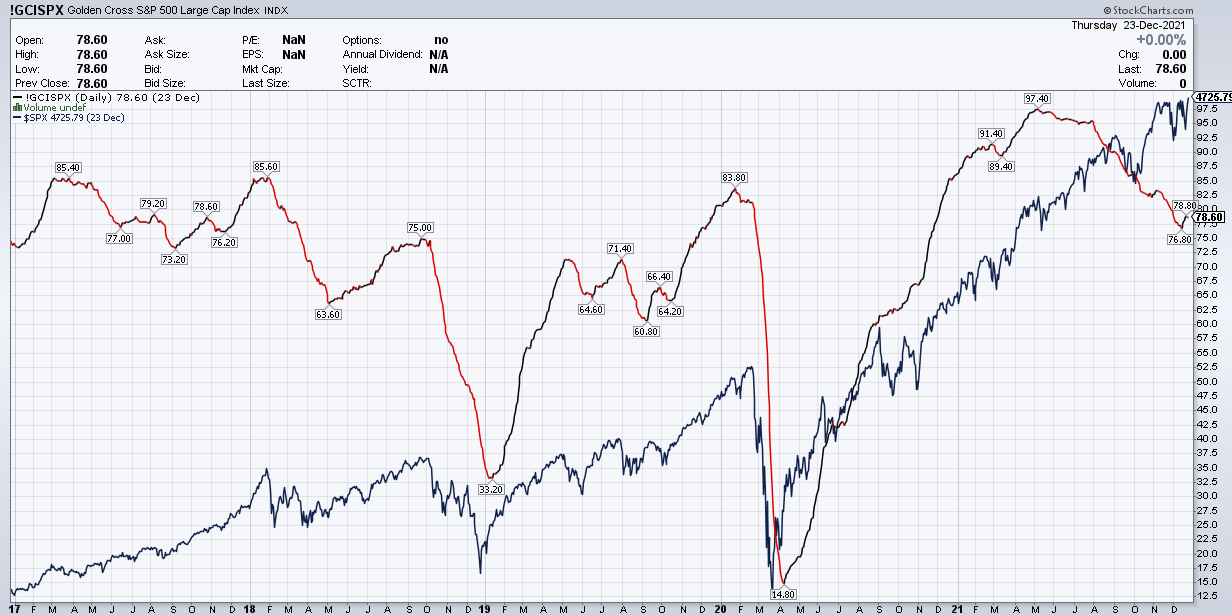 It gets even worse for the NASDAQ Composite, with just 40.8% of the stocks with their 50-day moving average above the 200-day moving average, down from nearly 76%.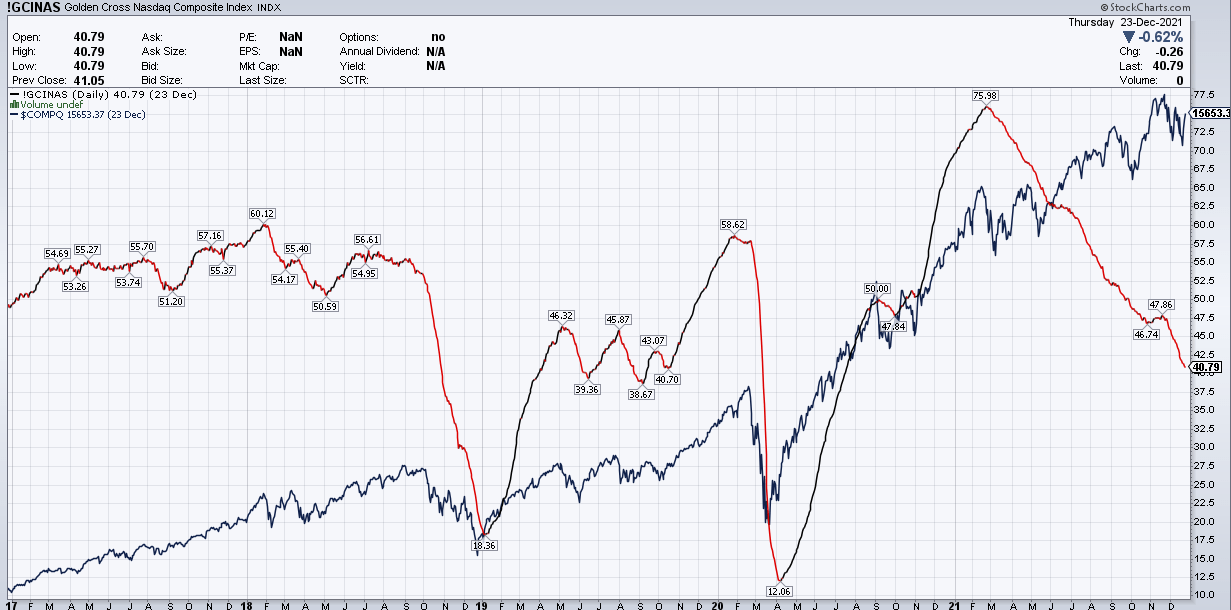 Apple (AAPL)
Apple has been one of those stocks that have been unable to climb back to its all-time highs. It has an ascending broadening wedge pattern to it, which would suggest there is downside risk back to the lower trendline around $153. The RSI has broken its uptrend, and the MACD has turned negative, indicating that the momentum has shifted from bullish to bearish.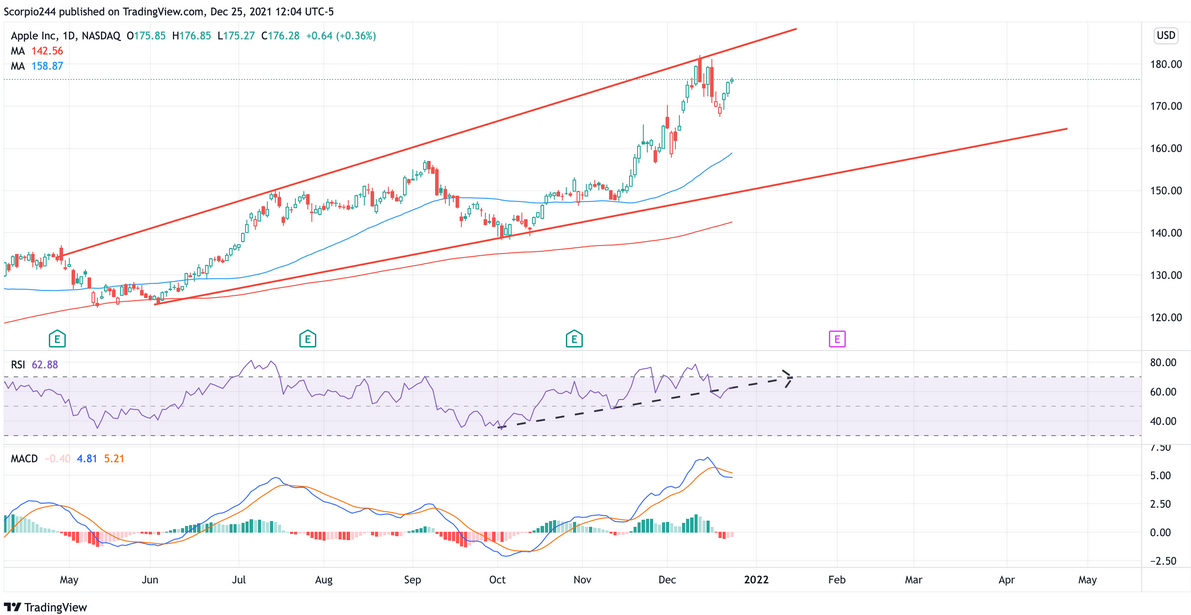 NVIDIA (NVDA)
NVIDIA has been in a downtrend since peaking in late November, it attempted to break above the downtrend just this past week, but failed. Volume has been rising as the stock has seen an indication of a rising number of sellers. I still think this stock will close the gap at $267, with the potential for an additional gap fill at $231.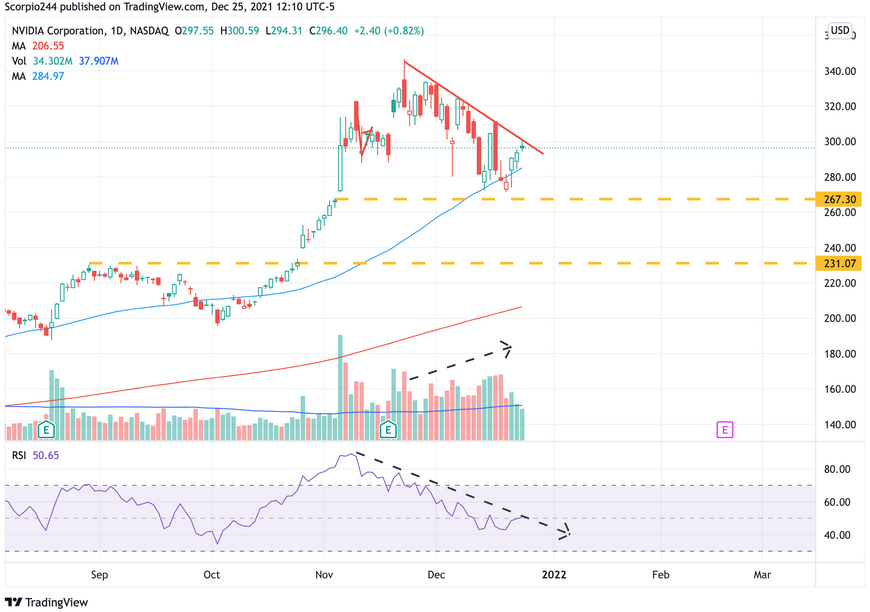 JPMorgan
JPMorgan (NYSE:) has been trending lower in recent weeks as yields have been falling and the has flattened. Volume for JPMorgan has been rising as the stock has been falling, indicating increasing selling pressure. The stock is likely to return to around $152.
PayPal
PayPal (NASDAQ:) continues to make positive strides and is showing signs of putting in a bottom over the short-term. Once the stock can clear resistance at $201 it could make a run to around $213.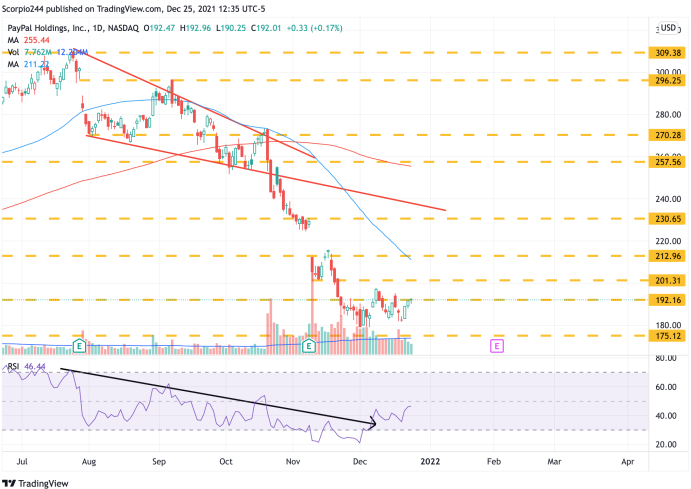 Good luck this week.