 3 Stocks To Watch In The Coming Week: Tesla, Delta Air, Pfizer 
With stocks rebounding strongly during the past week, and some trading at record highs, investors will be looking for signs in the final week of 2021 whether that rally could extend into next year.
The S&P 500 set a new closing record Thursday following encouraging reports about the lower-than-expected economic risks posed by the Omicron variant of COVID-19. After the gains of the past week, the extended its year-end gains to 26%.
Still, uncertainty over the new strain's impact on the economy may cause more market swings, as many business sectors face labor shortages and ongoing supply chain disruptions. Amid this uncertain economic environment, here are three large-cap stocks that we're monitoring in the upcoming week:
1. Tesla
Tesla (NASDAQ:) shares have staged a powerful rebound during the past week, surging more than 14% and climbing back above $1,000 a share.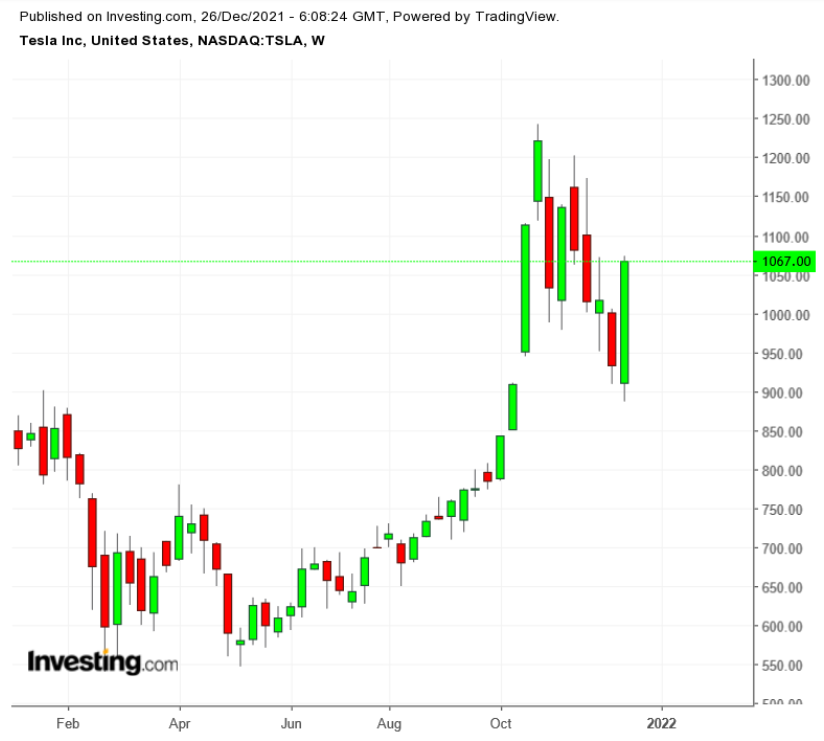 This powerful rally has given bulls some hope that the electric carmaker will continue its upward trend next year, especially when its CEO, Elon Musk, is almost done selling a large chunk of his holdings.
Musk wrote on Twitter last week he is "almost done" trimming his stake in Tesla. So far, the world's wealthiest man has sold $15.4 billion of his stock in the company. These sales are meant to cover an estimated tax bill of over $10 billion because of options he's expected to exercise.
Wedbush analyst Dan Ives wrote in a note:
"This declaration by Musk removes an overhang on the stock with selling pressure and negative perception issues now removed and the focus back on fundamental drivers for the Street."
Tesla shares closed on Thursday at $1,067 after last week's rally which extended the EV leader's gains this year to almost 50%.
2. Delta Air
Airline stocks are ending the year under pressure once again amid the chaos brought by Omicron's rapid global spread.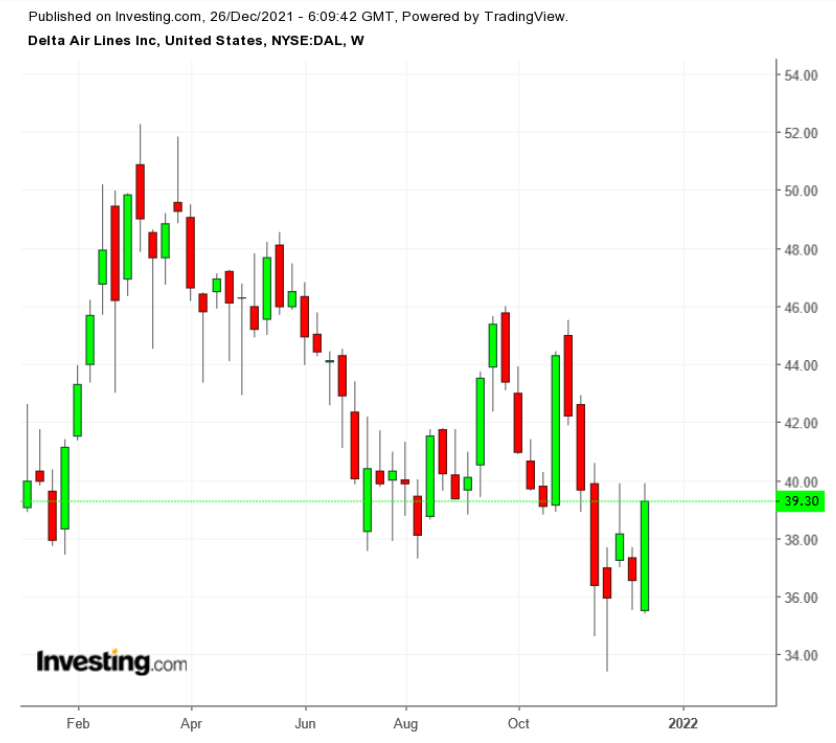 Delta Air Lines (NYSE:NYSE:) and other carriers reported Thursday that they have canceled dozens of Christmas Eve flights as COVID hit crews; an additional nearly 1,000 flights on Christmas Day. "Winter weather and Omicron forced Delta Air Lines to scrub 344 flights on Saturday, of approximately 3,000 scheduled flights, after exhausting all options and resources to prevent those cancellations," a spokesperson for the company said, adding that the impact was likely to persist on Sunday.
"The nationwide spike in Omicron cases this week has had a direct impact on our flight crews and the people who run our operation," United Airlines (NASDAQ:) said in a statement on Thursday. "As a result, we've unfortunately had to cancel some flights and are notifying impacted customers in advance of them coming to the airport."
Shares of Delta Air, the most valuable US carrier, have slipped 25% from their 52-week high. They closed on Thursday at $39.30.
Along with the pandemic-related hit, there are additional pressures likely to continue hurting airlines next year. The biggest among them is higher fuel costs which threaten airline earnings in the current quarter and beyond.
3. Pfizer
Among large cap healthcare stocks, Pfizer (NYSE:) is finishing 2021 on a strong note.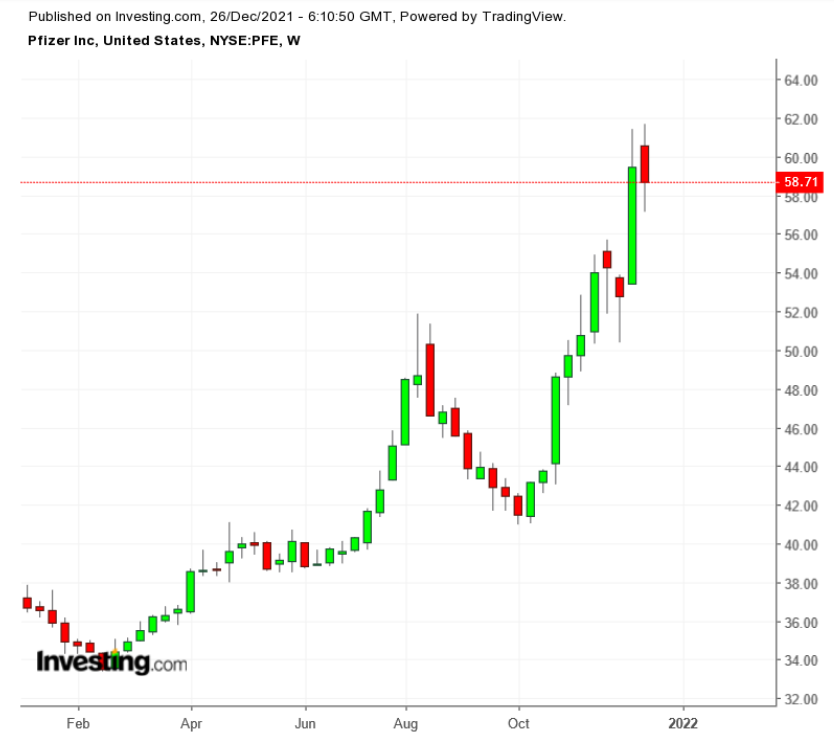 US regulators last week approved the company's COVID pill for emergency use. The drug, Paxlovid, is expected to provide a strong weapon against the virus once production gears up, giving people at high risk of severe complications from the disease a way to avoid hospitalization.
In a large clinical trial, the oral therapy was shown to reduce hospitalizations by 88% when given to high-risk unvaccinated patients within five days of the start of symptoms. The New York City-based company, which is also the leading supplier of the mRNA-based COVID-fighting vaccine, plans to ramp up production of the pill next year, providing another revenue stream for PFE.
In November, the US government said it had ordered 10 million courses of the Pfizer pill for a price of nearly $5.3 billion—about $530 per treatment. Pfizer shares closed on Thursday at $58.71, after gaining almost 60% during the year.