 3 Stocks To Watch In The Coming Week: Nike, Micron Technology, General Mills
Investors should brace for another trading week as the Omicron variant of the coronavirus continues to spread. At the same time, economists continue trying to determine what the total fallout from the latest surge in infections could be. 
Equity market losses accelerated into the close on Friday, as investors indicated a preference for getting rid of their holdings amid the economic uncertainties ahead of the upcoming Christmas holiday, as trading volume generally thins out into the New Year. 
The tech-heavy Index dropped about 2.9% over the course of the week, lagging the other major averages on a weekly basis. So far, the is still up 1.2% for December, but it's down nearly 1.9% for the week. The broad market benchmark has seen a roughly 23% gain for the year.
As this Omicron-triggered uncertainty continues, investors will also be getting the latest quarterly reports from some of the largest U.S. companies which could provide additional insight into consumer demand and the impact of supply-chain disruptions.
Below are three mega cap stocks we'll be focusing on during the upcoming week:
1. Nike
Nike (NYSE:) will release its second-quarter fiscal 2022 earnings on Monday, Dec. 20 after the market close. On average, analysts are expecting the sportswear giant to make $0.63 a share profit on sales of $11.25 billion.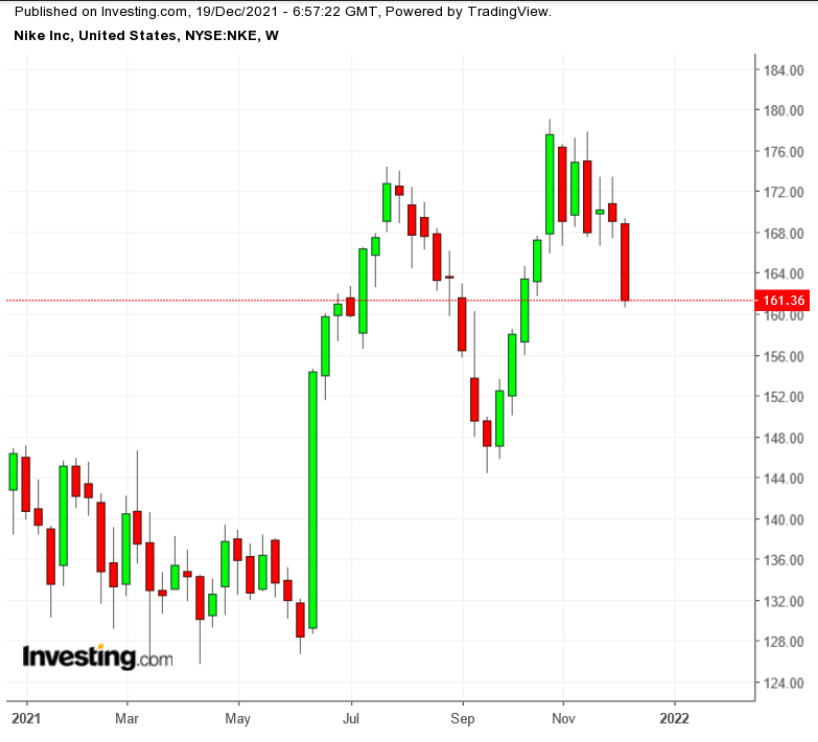 Nike lowered its sales forecast in September after it faced production and shipping delays, crimping its efforts to meet strong demand for shoes and athleticwear. Sales over the past quarter could fall due to factory closures in Vietnam because of the pandemic. 
That would mean full-year will be in the mid-single-digits rather than a low double-digit percentage rate Nike targeted earlier this year. The Beaverton, Oregon-based footwear and accessories behemoth has been hurt by COVID-19-related supply disruptions, which have been making it difficult for the company to increase shipments after year-long closures and lockdowns.
This potential slowdown has weighed on Nike's powerful 2021 rally, which sent the stock to an all-time high, above $177, last month. Shares, which closed at $161.36 on Friday, are still up 14% for the year. 
2. Micron Technology
Chipmaker Micron Technology (NASDAQ:) will report fiscal 2022 Q1 earnings on Monday as well, after the close. The storage chip manufacturer is estimated to have made $2.10 in profit per share on $11.25 billion in sales.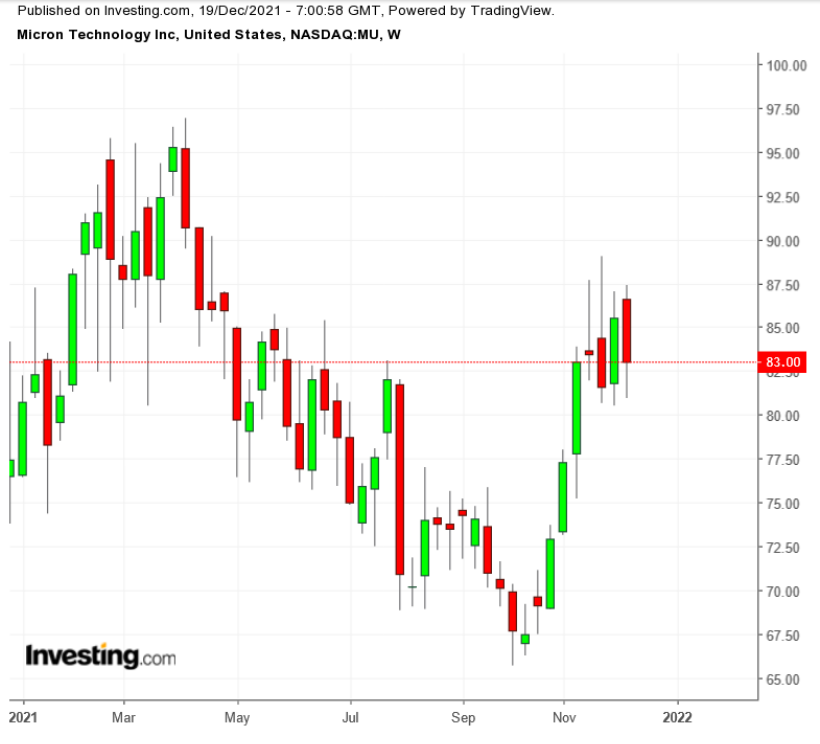 Micron provided a weak sales forecast for the past quarter in its earnings call, citing slowing demand from personal computer makers. At the time, the company's Chief Executive Officer Sanjay Mehrotra told Bloomberg that the stall in orders from PC makers is a short-term issue. 
Some of the company's customers are struggling to obtain other types of components, meaning they can't build all of the laptops and desktops that have been ordered. That's led them to reduce memory inventory. The situation will reverse when industry-wide shortages ease in the coming months, he said.
Micron stock closed at $83 on Friday, up about 10% for the year, underperforming the benchmark (SOX), which surged more than 30% over the same period.
3. General Mills
The maker of Cheerios cereal, Yoplait yogurt, and Nature Valley granola bars, General Mills (NYSE:), will report fiscal 2022 Q2 earnings on Tuesday, Dec. 21, before the market opens. Analysts expect $1.04 a share profit on sales of $4.84 billion.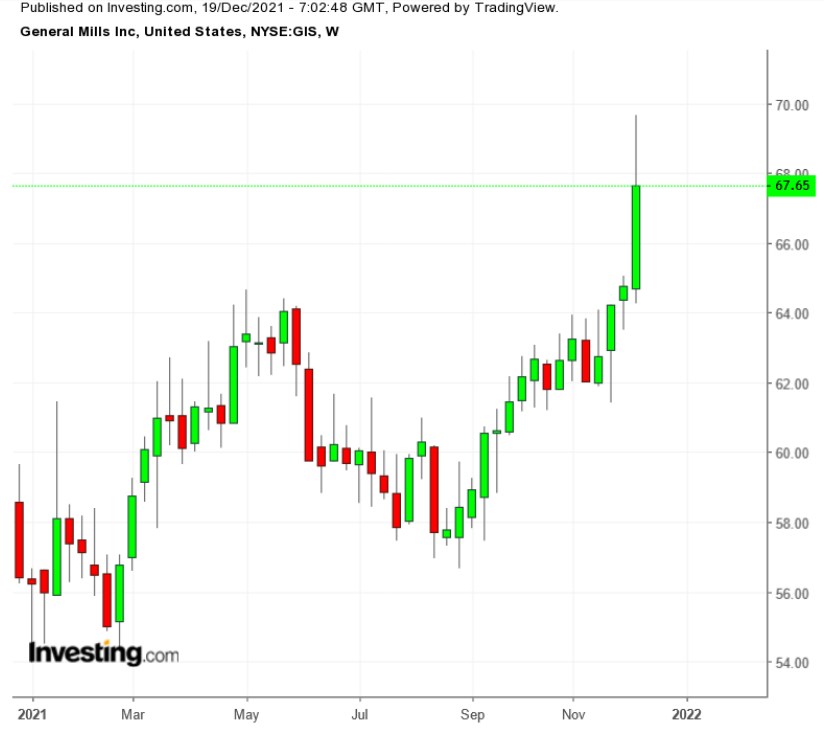 Shares of the Minneapolis-based consumer staple giant had risen 14% this year through Friday after gaining close to 10% in 2020, when of packaged foods surged as people stocked their pantries during COVID-19 lockdowns. 
The ongoing work-from-home environment is likely to keep demand for the company's packaged goods higher. GIS, however, is trying to restructure its portfolio in an era when consumers are rapidly changing their eating habits, looking for fresher, greener, and less sugary fare.
Bloomberg that the company is exploring selling a portfolio of brands including Progresso soups and its Helper lineup of one-skillet solutions in order to raise cash that it could use to pursue acquisitions. The stock closed on Friday at $67.65.