 As Fed Tightens Monetary Policy, These 3 Stocks Could Continue To Outperform
The US Federal Reserve is widely expected to announce acceleration of its bond-buying taper at the conclusion of its today, thereby setting the stage for faster rate hikes next year in an effort to contain soaring .
Indeed, Investing.com's Fed Rate Monitor Tool shows that money markets are now expecting the US central bank to raise interest rates by 25 basis points as early as May 2022. Taking that into account, below we highlight three proven, year-to-date winners that are set to outperform in the months ahead, even as the Fed's anticipated monetary policy tightening comes to fruition.
1. Charles Schwab
Year-To-Date Performance: +53.3%
Market Cap: $152.7 Billion
Shares of Charles Schwab (NYSE:), which have increased more than 53% year-to-date amid strong investment banking activity, look poised for further gains in the months ahead as investors brace for higher interest rates in 2022.
The Westlake, Texas-based financial services firm—which purchased rival TD Ameritrade last year—offers retail banking, commercial banking, an electronic trading platform, and wealth management advisory services to both individual and institutional clients. It had $7.1 trillion in total client assets as of Sept. 30.
SCHW reached an all-time high of $84.49 on Oct. 26, ending Tuesday's session at $80.79.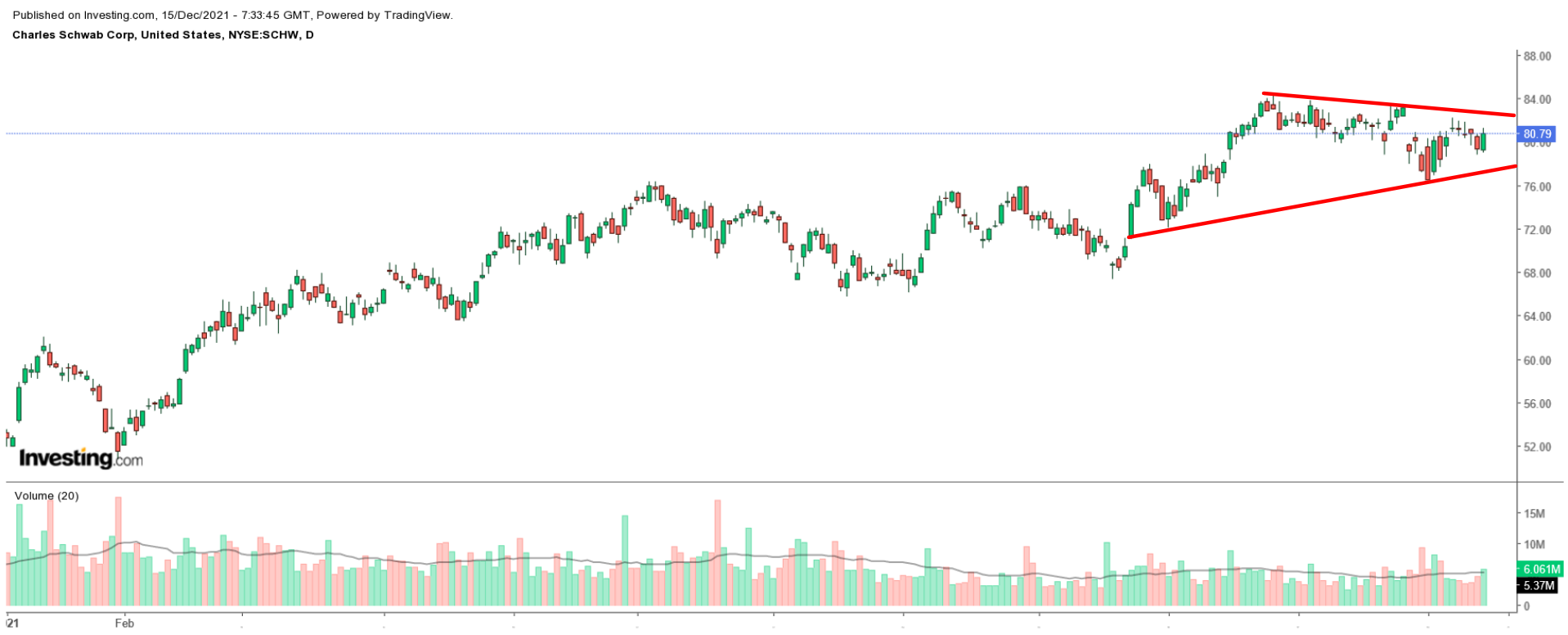 As one of the nation's largest banking institutions, Schwab stands to generate higher net income when rates move up. In addition, brokerage firms tend to benefit from higher fees amid the uptick in trading activity resulting from Fed-induced volatility.
Charles Schwab reported impressive third quarter results on Oct. 15, for both earnings and revenue thanks to a surge in client assets, as well as strong demand for its investment-related products.
The broker posted year-over-year earnings growth of 75% to $0.84 per share, while sales soared 87% from a year earlier to $4.69 billion. Perhaps of greater importance, the firm said net income totaled $1.53 billion, soaring 119% from $698 million in the same period last year, while net interest revenue increased 51% to $2.03 billion.
In a sign that bodes well for the future, investors opened over a million new brokerage accounts for the fourth consecutive quarter, bringing Schwab's year-to-date new brokerage accounts to 6.0 million.
2. Comerica
Year-To-Date Performance: +49.9%
Market Cap: $10.9 Billion
Comerica (NYSE:), which is one of the country's largest regional banks, has been a standout performer in the financial sector this year, benefitting from an improving economy, solid loan growth, and narrowing credit loss exposure.
The Dallas, Texas-based financial services firm, which manages nearly $85 billion in total assets, offers commercial banking, consumer banking, and wealth management services, operates primarily in Texas, California, Michigan, Arizona, and Florida.
Shares of CMA, which started the year at $55.86 and soared all the way to a record peak of $91.62 on Nov. 24, closed at $83.73 last night. Comerica has seen its shares jump almost 50% year-to-date, far outpacing the comparable returns of both the and the .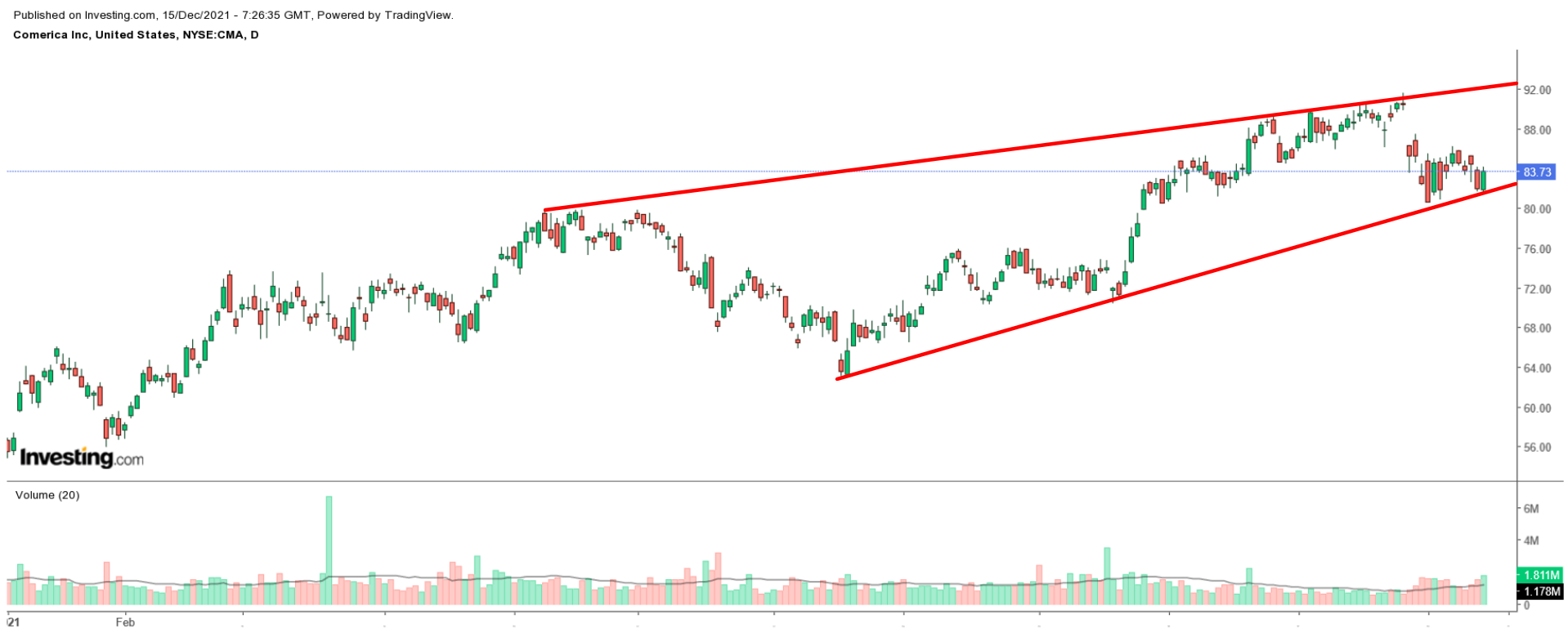 Given the anticipated increase in short-term rates across the Treasury market that would result from hawkish Fed bets, CMA shares look like a solid investment going into 2022.
Higher rates and yields tend to boost the return on interest that banks earn from their loan products, or net interest income—the difference between the revenue generated from the interest earned on assets such as loans, mortgages, and securities, over the interest paid out to their depositors.
Comerica reported earnings and revenue which easily when it delivered Q3 results on Oct. 20, driven by strong deposit growth, and robust fee income. It also gave upbeat guidance for the last quarter of the year and beyond.
More importantly, the regional banking powerhouse has boosted efforts in recent months to return more cash to shareholders in the form of higher dividend payouts and stock buybacks. Comerica is currently set to pay a quarterly $0.68 dividend per share when it goes ex-dividend on Jan. 1, 2022, providing an annual yield of 3.32%.
3. NVIDIA
Year-To-Date Performance: +117.1%
Market Cap: $708.4 Billion
Widely considered one of the global leaders in providing high-performance graphic processing units (GPUs) for gaming consoles, data centers, and self-driving cars, NVIDIA (NASDAQ:) has been one of this year's top performers, thanks to soaring demand for its chips.
In addition, as the world's largest maker of video game chips, NVIDIA has stepped up efforts in recent months to become a major player in the emerging metaverse space.
After hitting a record of $346.47 on Nov. 22, NVDA stock, which is up about 117% year-to-date, ended at $283.37 yesterday. At current levels, the Santa Clara, California-based company is ranked the seventh most valuable company trading on the US stock exchange.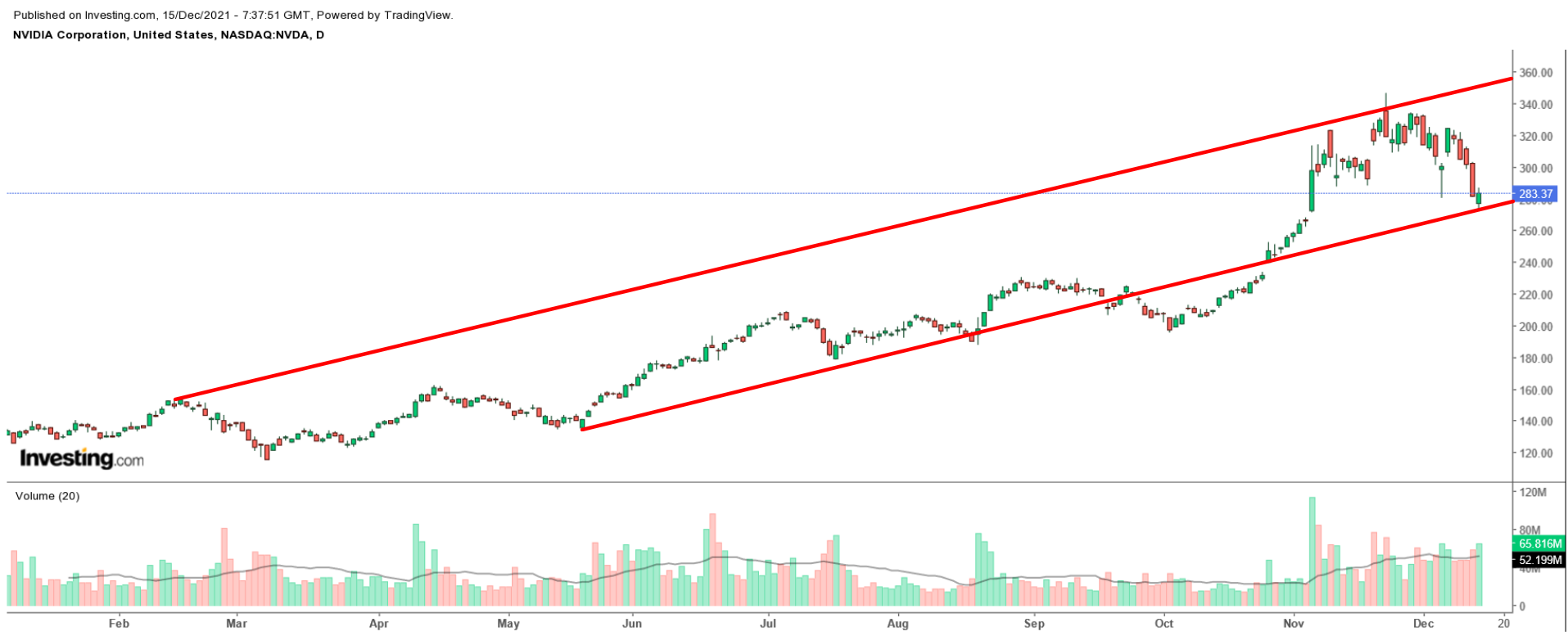 While NVIDIA is broadly defined as a growth stock, it is not as prone to a jump in interest rates as other tech companies due to its dependably profitable and cash-rich business model, making it a solid bet should the Fed tighten policy.
In a sign of how well NVIDIA's business has performed in the current environment, the chipmaker has turned in earnings reports that have beaten Wall Street's profit and revenue forecasts in each quarter this year.
For its most recent quarter, NVIDIA announced growth of 60% to $1.17 per share on Nov. 17, while sales surged 50% to $7.1 billion. Gaming, NVIDIA's biggest segment, reported $3.2 billion in Q3 sales, rising 42% from the same period last year. Data center sales, which are another bright spot for Nvidia, improved 55% year-over-year to $2.9 billion.
Looking ahead, NVIDIA's guidance for the current quarter ending in January made clear that the chip giant does not expect any slowdown in the coming months, with revenue forecast to grow by 48% year-over-year to a record $7.4 billion.