 3 Stocks To Watch In The Coming Week: FedEx, Adobe, Pfizer 
As the U.S. Federal Reserve concludes its during the coming week, after which Fed Chair Jerome Powell holds a , Wall Street equities may once again experience . Investors will be looking for some guidance amid uncertainty about the future pace of expected interest rate hikes.
On Friday, stocks accelerated to a record high on speculation that the central bank won't accelerate plans to tighten monetary policy as cases of the Omicron variant surge—something that could derail the country's economic recovery.
The closed at a new record on Friday, capping Wall Street's strong rally this past week, despite hitting a 39-year high. The rose 4% since Monday, snapping a 4-week losing streak. The S&P 500 and added 3.8% and 3.6%, respectively, last week—the best since February for both indexes.
Still, many analysts haven't yet ruled out another week of volatility, especially when there is enough uncertainty in the air about the central bank's future course of action to deal with the accelerating inflation.
Though the Fed press conference is probably the most important event investors will focus on next week, there are also some big earnings announcements that shouldn't be ignored. Here are three large-cap stocks which are on our radar:
1. FedEx
The world's largest parcel delivery service, FedEx (NYSE:), will report its fiscal 2022 second quarter earnings after the market closes on Thursday, Dec. 16. On average, analysts are expecting $4.27 a share profit on sales of $22.41 billion.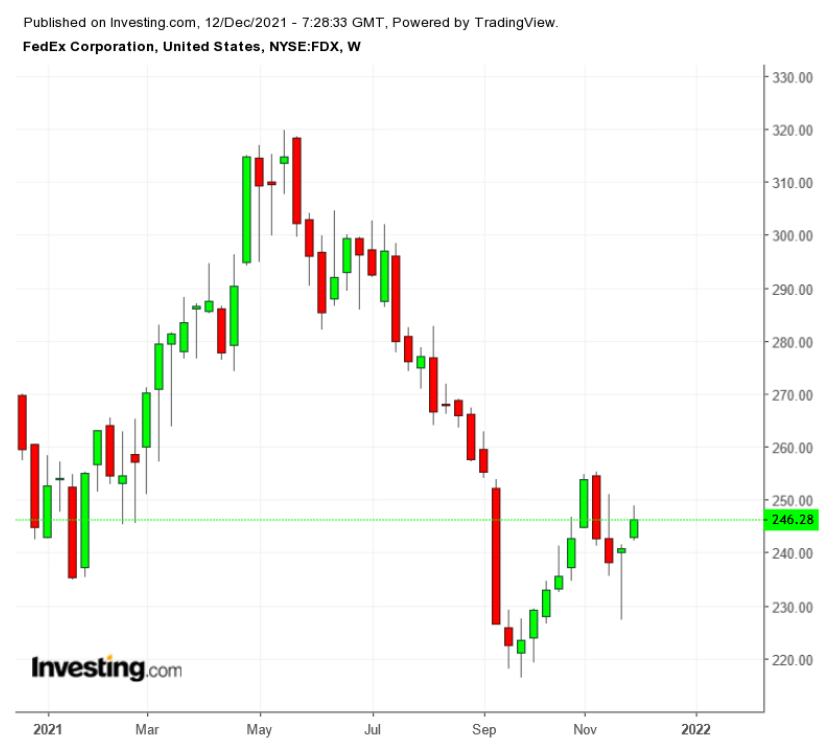 FedEx's earnings, which come almost a month earlier than the fourth quarter numbers for the majority of US companies, are generally closely watched since the delivery business is considered a proxy for the global economy.
As such, it can provide early warnings on trade and business investment issues, especially when supply-chain issues are causing a major disruption around the globe.
In September, FedEx cut its outlook for annual profit after missing analysts' because of higher costs and stalled growth in shipments, saying a tight labor market was a key drag. Executives estimate this resulted in $450 million in added costs from a year earlier.
FedEx shares have fallen about 16% during the past six months, closing on Friday at $246.28.
2. Adobe Systems
Adobe Systems (NASDAQ:) will release its fourth quarter earnings on Thursday as well, but before the market opens. The maker of Photoshop is expected to report $3.2 a share profit on sales of $4.1 billion.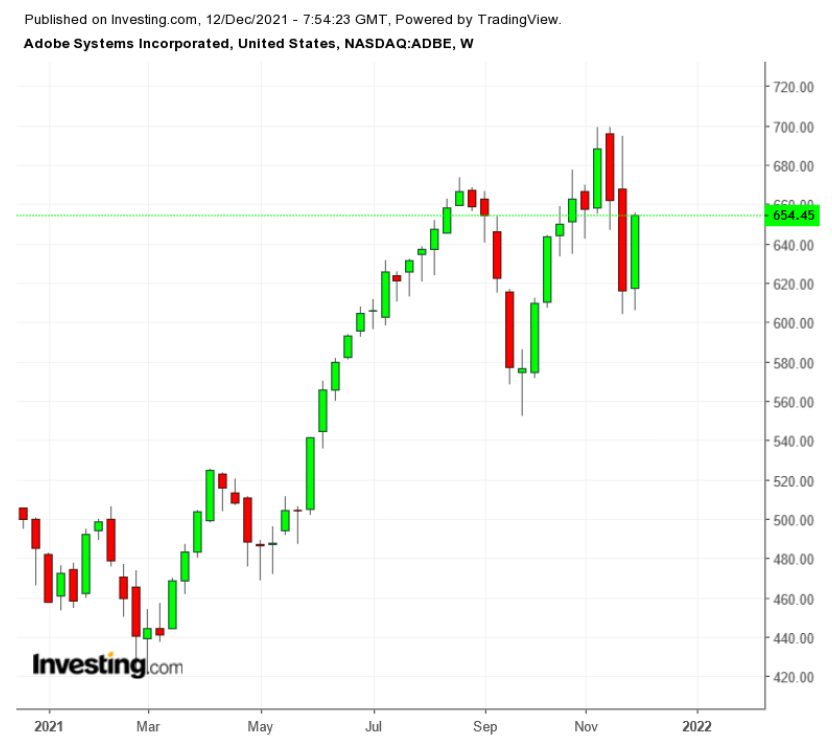 Chief Executive Officer Shantanu Narayen acquired Frame.io, a startup that makes video collaboration software, for $1.3 billion in August as part of his efforts to achieve his 20% annual growth target. Adobe is also benefiting from the increased demand for its document cloud products, including PDF and electronic signature software, with millions working from home.
Revenue from digital media will increase about 20% and digital experience will jump 22% in the fiscal fourth quarter, Adobe informed investors in its September update.
Adobe, which competes with Salesforce.com (NYSE:) in the marketing and e-commerce technology segment, is trying to by expanding its business offerings while strengthening its core creative software business.
Adobe shares have had a powerful rally this year, surging about 30%. The stock closed at $654.45 on Friday.
3. Pfizer
A two-shot regimen of Pfizer's (NYSE:) vaccine has just 22.5% efficacy against symptomatic infection with the Omicron variant, but can thwart severe disease, according to laboratory experiments in South Africa, cited by Bloomberg.
Pfizer said last week that a third shot of its COVID vaccine may be needed to help boost resistance against the Omicron strain of the virus.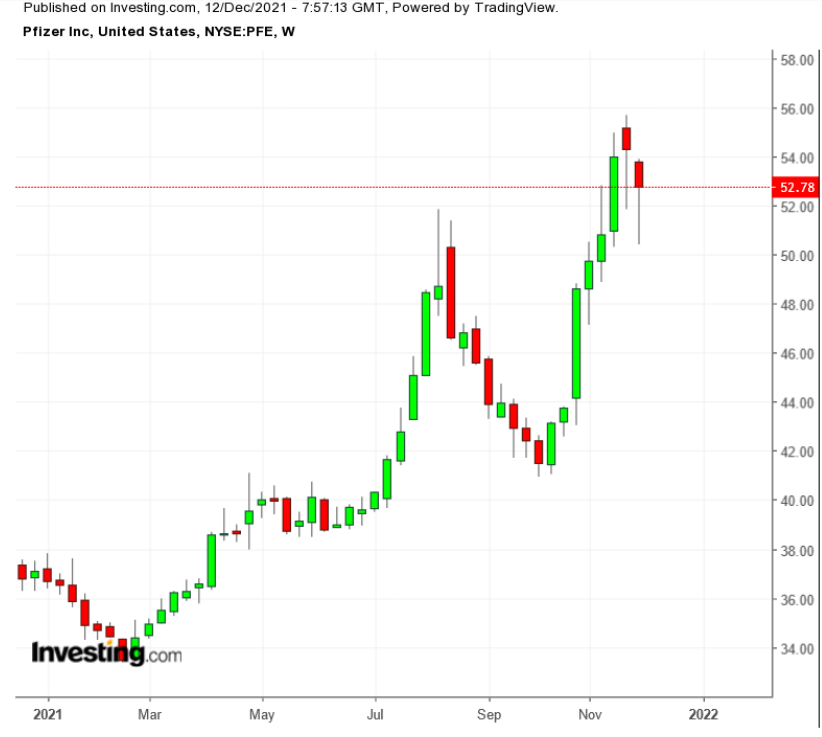 The announcement helped buoy its stock value, suggesting that the world will need more of the vaccine which the global pharma giant produces in partnership with German BioNTech SE (NASDAQ:).
Since its March 2020 low, shares of the drug maker have roughly doubled. They closed on Friday at $52.78, after gaining about 16% during the past quarter.