 Okta Stock Likely To Halve Once It Exceeds $300
Founded in 2009, Okta (NASDAQ:) is an identity management platform provider for businesses. Its products include API access management, single sign-on, multi factor authentication, user management and lifecycle management. It all sounds very impressive and the company's $36 billion market cap makes it sound even more so.
Until one finds out that Okta is still a money-losing business. It is true that revenues have been growing at a 40+% clip for years. Still, this doesn't justify a 2023 forward price-to-sales ratio of 21. For reference, companies used to trade at 20 times their current year's sales during the final years of the Dot-com bubble. Okta trades at 21 times the sales it is expected to make over a year from now. Wow!
However, the stock has been very expensive for quite a while, yet it just keeps rising. So valuation alone won't tell us if Okta 's uptrend is approaching its end or not. Elliott Wave analysis, on the other hand, just might. Take a look below.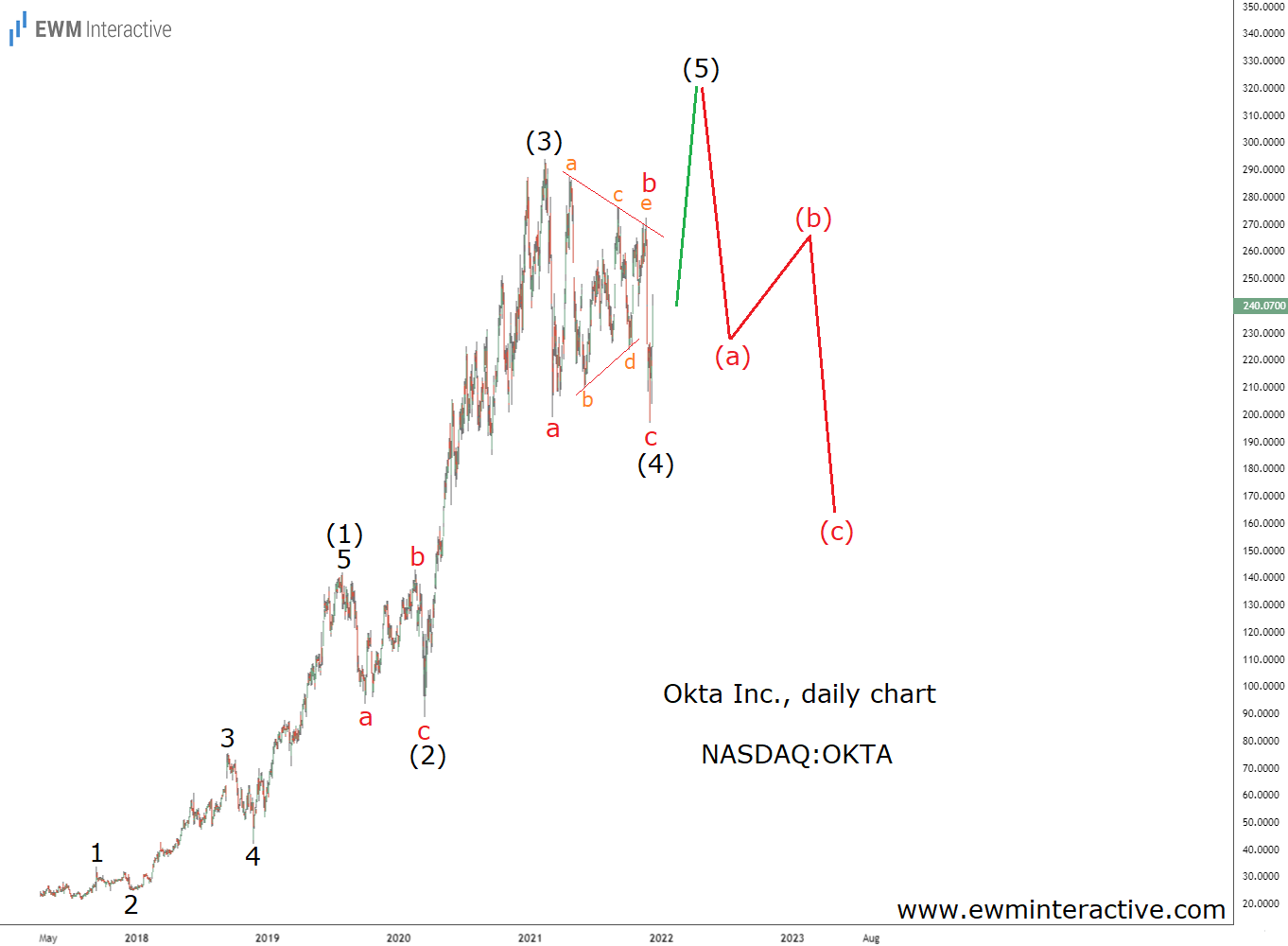 The daily chart above reveals the stock's path since the 2017 IPO. The general direction of the trend is clearly to the upside with only to episodes interrupting it. The first one, labeled as wave (2), began in August 2019 and culminated in the March 2020 coronavirus selloff.
Okta Stock's Next Record High Not a Cause for Celebration
The second notable interruption took most of 2021 and looks like a clear a-b-c zigzag correction in wave (4), where wave 'b' is a triangle. If this analysis is correct, Okta is on the verge of completing a five-wave impulse pattern. What is still missing is the fifth and final wave.
Wave (5) is supposed to exceed to top of wave (3), putting targets above the $300 mark within the bulls' reach. Actually, we won't be surprised to see Okta stock approaching $330. Unfortunately, no trend lasts forever. According to the theory, a three-wave correction follows every impulse.
Corrections usually erase the entire fifth wave. Given the company's extreme overvaluation, it is not very difficult to imagine a 50% decline to roughly $160. Before you call us crazy, keep in mind that this is the same kind of pattern that helped us predict the crashes in Roku (NASDAQ:), NovoCure (NASDAQ:) and more recently Etsy (NASDAQ:). In our opinion, instead of celebrating the new all-time high, investors should be thinking about an exit strategy.