 Chart Of The Day: The NASDAQ 100 Could Be About To Top Out
Though US futures contracts were all down ahead of Tuesday's Wall Street session, equity futures for the 'outperformed.' This morning's global market equity selloff is being fueled once again by rising fears of the as-yet-unknown dangers of the .
The 'leadership' of NASDAQ futures indicates markets are pulling back from the reflation trade which reflects optimism of an economic recovery, reversing instead toward what proved successful during the first wave of the COVID-19 pandemic—technology sector growth shares listed on the index. Tech products and services made lockdowns and work-from-home conditions feasible and bearable, making technology companies market darlings.
The world is not in the same place as it was during the earlier waves of the coronavirus, as we now have effective vaccines—even if it is unclear how effective those vaccines are against Omicron. However, traders appear to be overreacting, as sentiment whipsaws on each new headline.
Perhaps the technical principles of supply and demand can provide a bit more clarity on where growth equities could be headed next.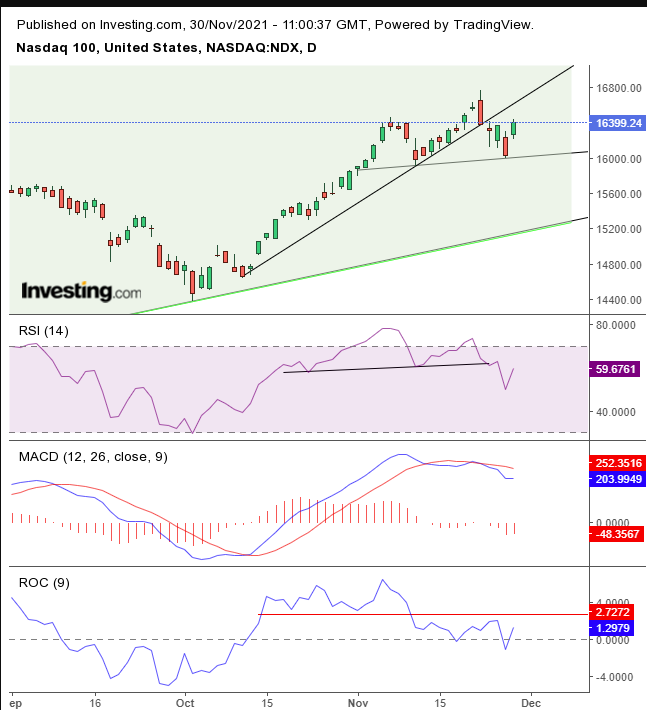 NDX Daily
The tech-heavy index is still in a peak-and-trough uptrend. In the near-term, the price fell below the uptrend line in place since the mid-October low, indicating this specific trend might be slowing.
However, though yesterday's trading was positive for the NDX, the index failed to reach higher than the Nov. 4 high. Given that futures are signaling there's a likely selloff coming during today's US session, we might witness the development of a right shoulder to an H&S top, complete with a downside breakout, penetrating the 16,000 level.
The MACD's short MA attempted to cross back above the long MA but failed, showing a weakening in current pricing. Both the RSI and the ROC—different ways to calculate momentum—are bearish as well, suggesting the price will indeed top out in the short term. The RSI completed its own H&S top, while the more sensitive ROC found resistance after breaking support.
Even if this scenario plays out, it will retest the uptrend line since the March 2020 bottom, and then we'll see whether smart money picks it up. Given current market conditions, we are monitoring assets on a move-by-move basis.
Trading Strategies
Conservative traders should wait to buy a potential dip that bounces off the uptrend line.
Moderate traders would short when there's a completed H&S top.
Aggressive traders could go short now, provided they accept the added risk proportional to the reward of moving before the rest of the market. A coherent trade plan is a must. Here's an example:
Trade Sample – Aggressive Short
Entry: 16,400
Stop-Loss 16,500
Risk: 100 points
Target: 16,000
Reward: 400 points
Risk-Reward Ratio: 1:4