 1 Stock To Buy, 1 To Dump When Markets Open: Dick's Sporting Goods, Pinduoduo
Stocks on Wall Street ended mostly lower on Friday, as worries over the resurgence of COVID-19 cases in Europe sapped investor sentiment. The slid, finishing the week down 0.14%.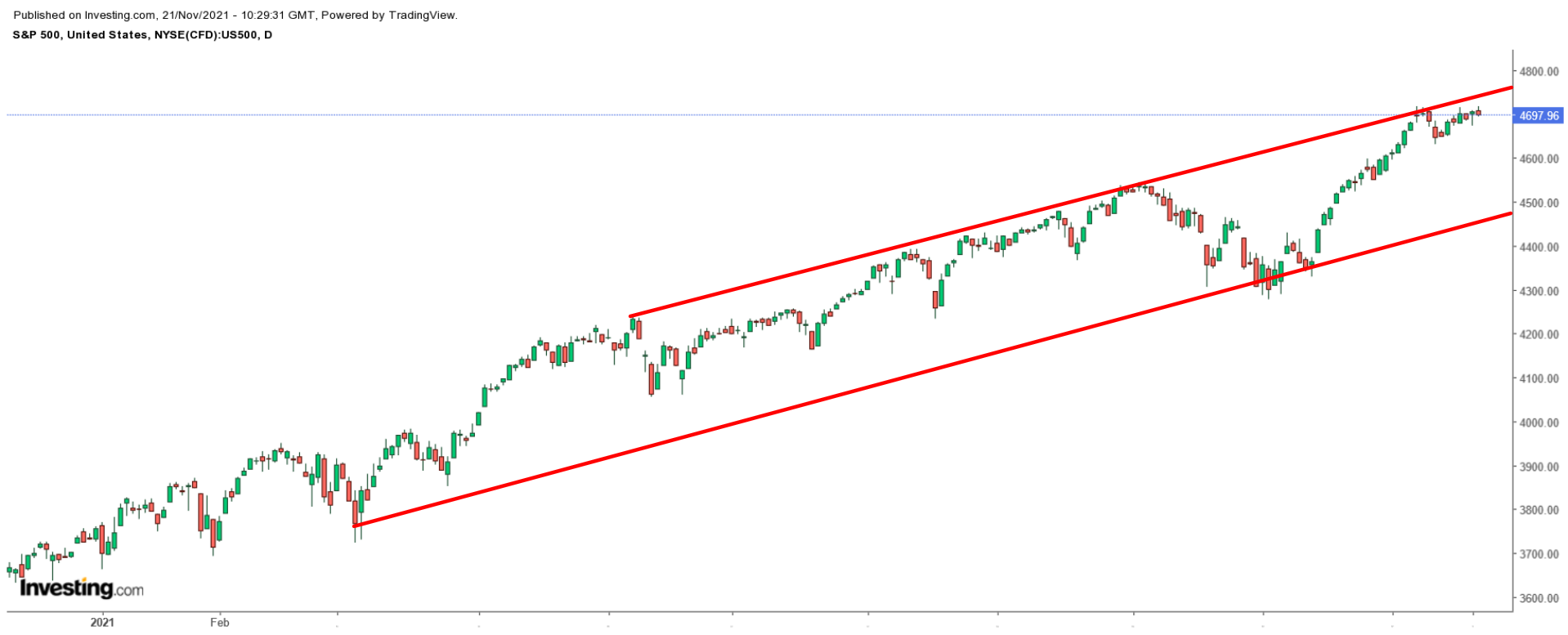 With the Thanksgiving holiday just around the corner, Wall Street will have a shortened week of trading ahead, with the stock market closed on Thursday, Nov. 25, and a 1:00PM ET wrap up on Friday, Nov. 26. There will, however, be a full slate of earnings reports and data releases coming out in the days prior, even as investors monitor further developments on the lingering health crisis.
Regardless of which direction the market goes, below we highlight one stock likely to be in demand in the coming days and another which could see fresh losses. 
Remember though, our timeframe is just for the week ahead.
Stock To Buy: Dick's Sporting Goods
Shares of Dick's Sporting Goods (NYSE:) could see increased buying activity this week, as investors await the latest financial results from one of the nation's largest athletic-gear retailers, which are due to be posted before the bell on Tuesday, Nov. 23. Consensus expectations call for the Coraopolis, Pennsylvania-based sporting goods chain—which has topped Wall Street estimates for five straight —to release earnings per share of $2.03 for the third quarter, rising 1% from EPS of $2.01 in the year-ago period.
Revenue is forecast to increase roughly 3% year-over-year to $2.48 billion, benefitting from strong consumer demand across its athletic apparel and footwear product categories. As such, market players will zero in on the company's same-store sales—which track sales at stores open for at least 12 months—after the key metric grew by 19.2% in the previous quarter.
Beyond the top- and bottom-line numbers, Dick's outlook for its all-important holiday quarter will be in the spotlight as it prepares for a busy shopping season amid worries surrounding potential supply chain shortages and rising inflation. Further details regarding its recently announced partnership with Nike (NYSE:), under which the two sporting goods giants will combine their membership programs, will also be of central interest.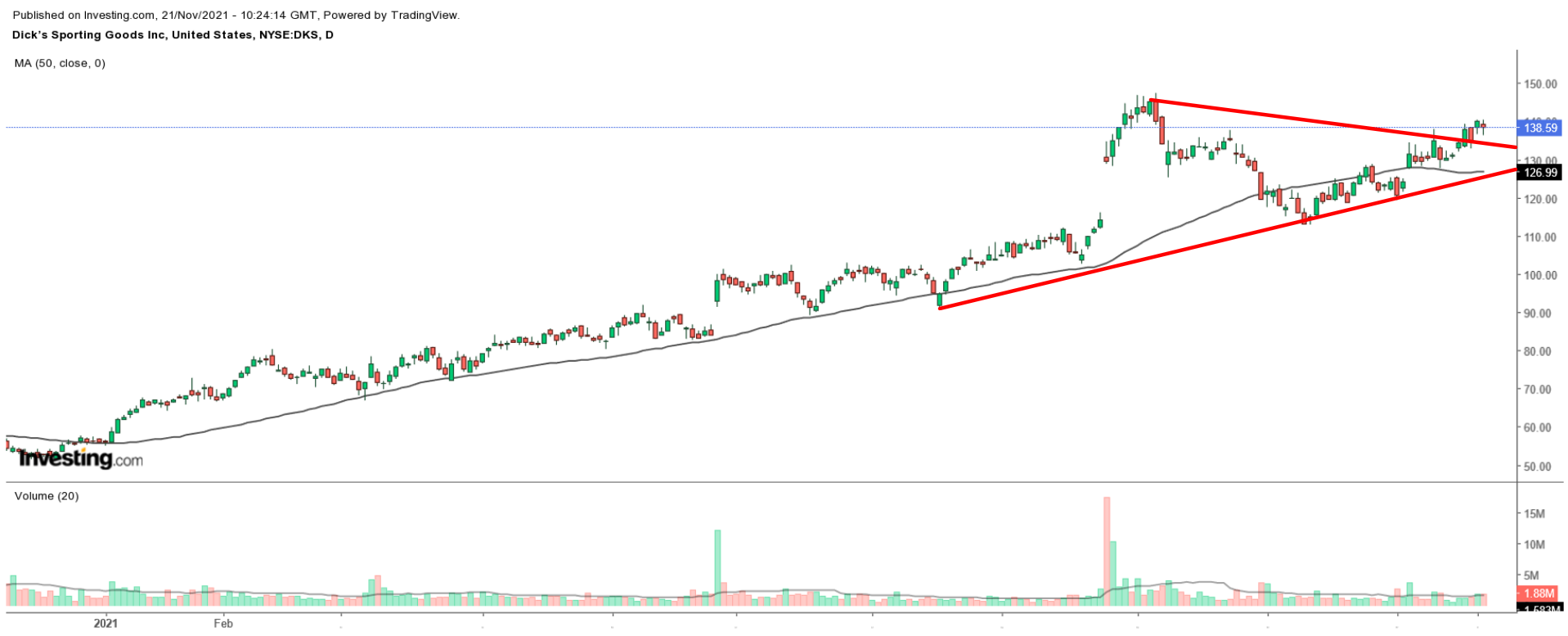 DKS stock closed at $138.59 on Friday, within sight of its all-time high of $147.39 reached on Sept. 7. At current levels, the sporting goods retail chain has a market cap of around $12.3 billion.
Dick's Sporting Goods operates over 800 retail locations across the U.S. and has thrived in 2021 as it continues to benefit from favorable consumer trends and customer demand. Year-to-date, DKS stock has surged 146.5%, easily making it one of the biggest retail-industry winners of the year, amid soaring demand for sports and recreation clothing and equipment.
Stock To Dump: Pinduoduo 
Pinduoduo (NASDAQ:) shares, which are currently trading near their lowest level in about a year, are expected to suffer another volatile week as investors brace for disappointing financial results from the Shanghai-based e-commerce company, due ahead of the open on Friday, Nov. 26.
Analyst estimates call for Pinduoduo—which has been negatively impacted by ongoing scrutiny by Chinese authorities clamping down on the country's booming tech platform economy—to announce a third-quarter loss per share of ¥0.46 (-$0.07) on revenue of ¥25.8 billion ($4.04 billion).
Perhaps of greater importance, investor attention will be primarily on the online marketplace platform's guidance for the current quarter and beyond, amid worries it could reduce its sales growth forecast due to the regulatory crackdown.
Market players will also pay close attention to commentary from Pinduoduo executives regarding the outlook for the rest of the year and early 2022 as the e-commerce giant faces tough challenges ahead.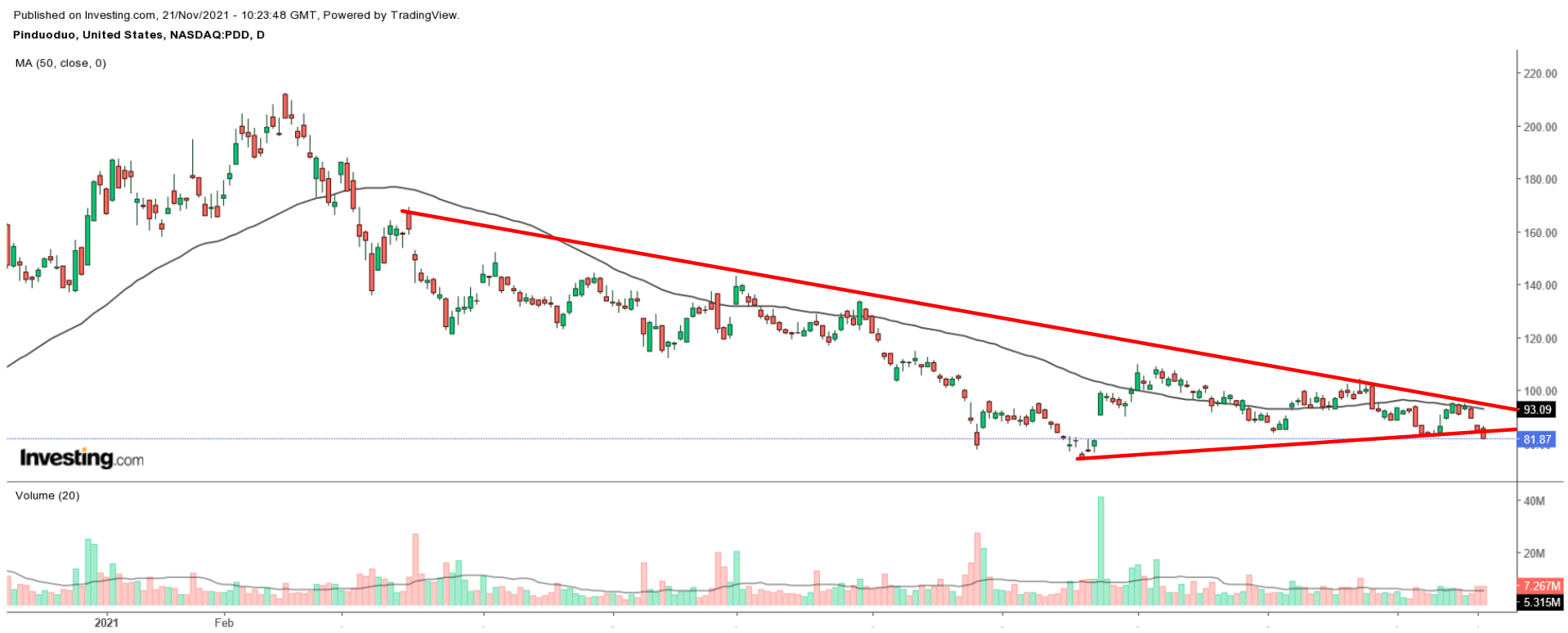 PDD stock has fallen nearly 18% in the last month and 54% year-to-date. It ended at $81.87 by close of trade on Friday and now stands more than 60% below its all-time high of $212.30, touched on Feb. 16.
At current levels, Pinduoduo has a market cap of $102.6 billion, making it the third largest e-commerce company in China in terms of annual revenue, trailing only Alibaba (NYSE:) and JD.com (NASDAQ:).
Investors' sentiment on the once high-flying stock turned as China's ruling Communist Party intensified its crackdown on the country's increasingly powerful tech sector, including imposing hefty fines, and launching numerous antitrust investigations.