 3 Stocks To Watch In The Coming Week: Zoom Video, Best Buy, Dell
Equities wrapped another week this past Friday, as investors remained concerned about the spread in Europe of the Delta variant of COVID-19 and its impact on U.S. economic growth. Though it closed down for the final day of trade, the rose 0.3% for the week, helped by some strong retail earnings. The blue-chip fell 1.3% over the same timeframe, while the tech-heavy got a 1.2% boost on a weekly basis.
Equity investors were nervous on Friday after Austria announced it plans to introduce a full national lockdown due to a spike in COVID cases in the European country. That followed new restrictions for unvaccinated people in Germany, as daily cases rose to a record high in Europe's largest economy.
Aside from concerns related to the pandemic path during this winter, investors will also be watching earnings releases from some US tech companies which are among the last to report in the current cycle. Here are three we're following:
1. Zoom Video 
Zoom Video Communications (NASDAQ:) will report its Q3 earnings on Monday, Nov. 22, after the bell amid signs the video-conferencing platform's pandemic era growth is coming to an end as schools and offices reopen.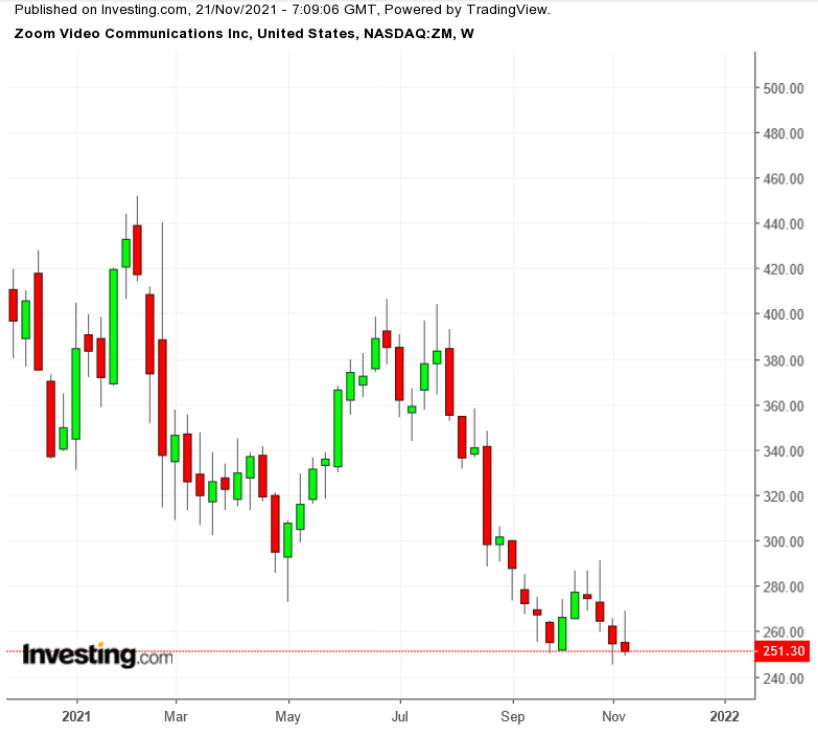 The company is forecast to report $1.09 a share profit on sales of $1.02 billion. The stock of the San Jose, California-based company is under pressure after management provided a sales forecast in August that fell short of some analysts' estimates.
Shares of ZM closed on Friday at $251.30, down more than 25% for the year after having surged five-fold in 2020, when use of the company's communication platform exploded in the midst of the pandemic and resulting lockdowns. However, that meteoric growth is slowing earlier than many analysts had forecast.
Zoom 369% in the 2020 fiscal fourth quarter, 191% in the first quarter of 2021, and 54% in the three months that ended July 31. The company's forecasts indicate sales may increase just 15% in the fiscal third quarter.
2. Best Buy
Best Buy (NYSE:), the big-box electronics and technology chain with stores throughout the US and Canada, will release Q3 earnings on Tuesday, Nov. 23 before the market opens. The retailer is expected to report $1.94 per share profit and $11.62 billion in revenue, according to analysts' consensus estimates.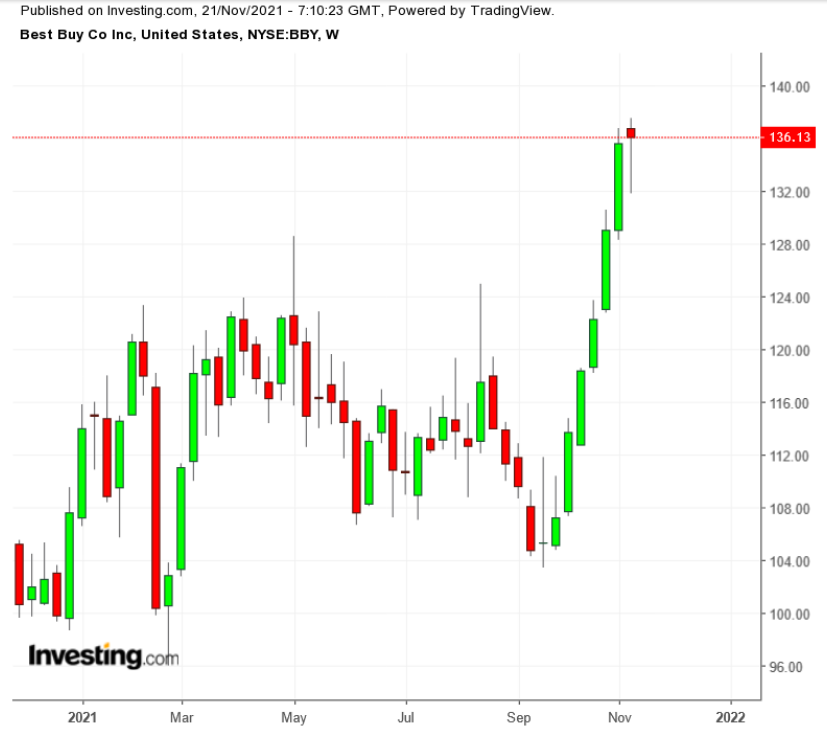 Given the strength of earnings reports released by other top retailers during the past week, there is a significant possibility that Best Buy could surprise to the upside ahead of the crucial holiday season. Anticipating this , investors have pushed BBY shares higher by about 24% during the past three months. Best Buy stock closed on Friday at $136.13.
Best Buy is emerging strongly from the pandemic-driven boom in demand for electric gadgets due to its superior e-commerce capabilities. Now, as the economy steadily reopens, its physical locations are benefiting as customers shift to store shopping.
3. Dell Technologies 
Dell Technologies (NYSE:) will release fiscal Q3 2022 results the same day but after the close. Analysts expect $2.30 EPS on more than $27.37 billion in revenue.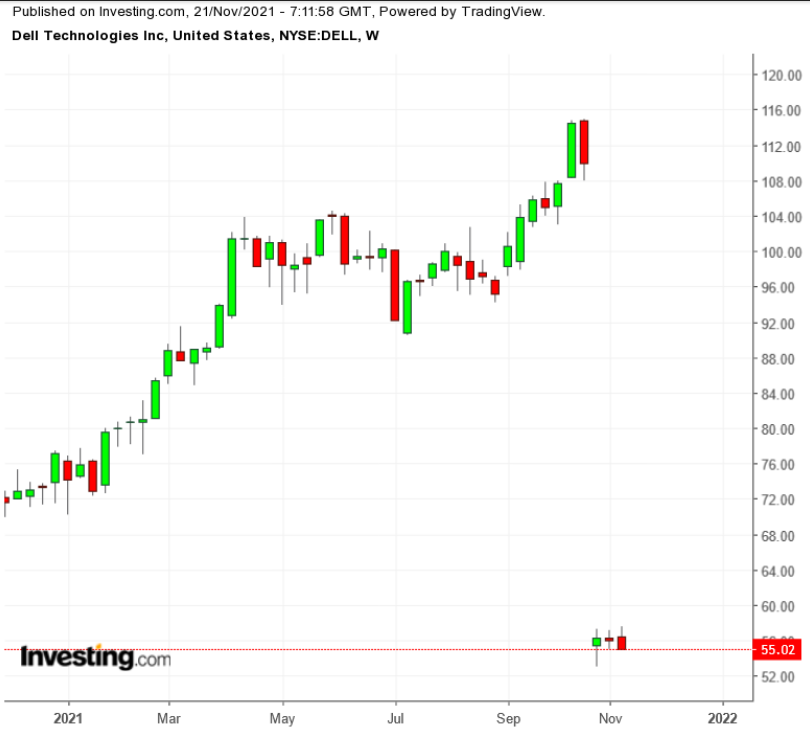 The Round Rock, Texas-based provider of IT products and services has benefited from strong demand for personal computers from workers and students sheltering at home during the coronavirus pandemic. At the same time, however, sales from corporate clients have suffered because of the virus-triggered recession.
Chief Executive Officer Michael Dell is trying to reduce the reliance of his eponymous company on one-time hardware sales. Rather, he's aiming to transform it into a seller of subscription-based computer services. Right now, DELL still gets about half of its from PC purchases by companies and consumers.
Shares of Dell have gained 48% this year, closing on Friday at $55.02. Early this month, Dell completed the spin-off of VMware (NYSE:), a corporate software maker in which it has more than an 80% stake, creating two publicly traded companies and raising cash to pay down debt.