 NASDAQ 100 Should Reach $17,000 Before Downside Risk Increases
It had been about a since I provided an Elliott Wave Principle (EWP) based update on the . Back then, I was looking for either "a bounce to reach $15,000-15,500" or a rally to around "15,700-15,900." Fast forward, and the market has invalidated the bounce option as it reached as high as $16,454 by Nov. 5, dropped to $15,905 on Nov. 10, and sits now at $15,915. Thus, the index rallied slightly higher than anticipated as the 3rd wave of the new impulse higher started from the early-October lows extended. But this fits the saying "in bull markets upside surprises and downside disappoints" very well. Please keep it in mind.
That said, now that the bounce is off the table and a new impulse higher option/path was chosen/taken by the markets, it is time to ask: What's next?
Figure 1 below shows the two options the market has now. Both are bullish, and both target ideally around $17,000 before the NDX is ready to embark on the subsequent more significant correction. Allow me to explain below.
Figure 1 NDX100 daily candlestick charts with detailed EWP count and technical indicators.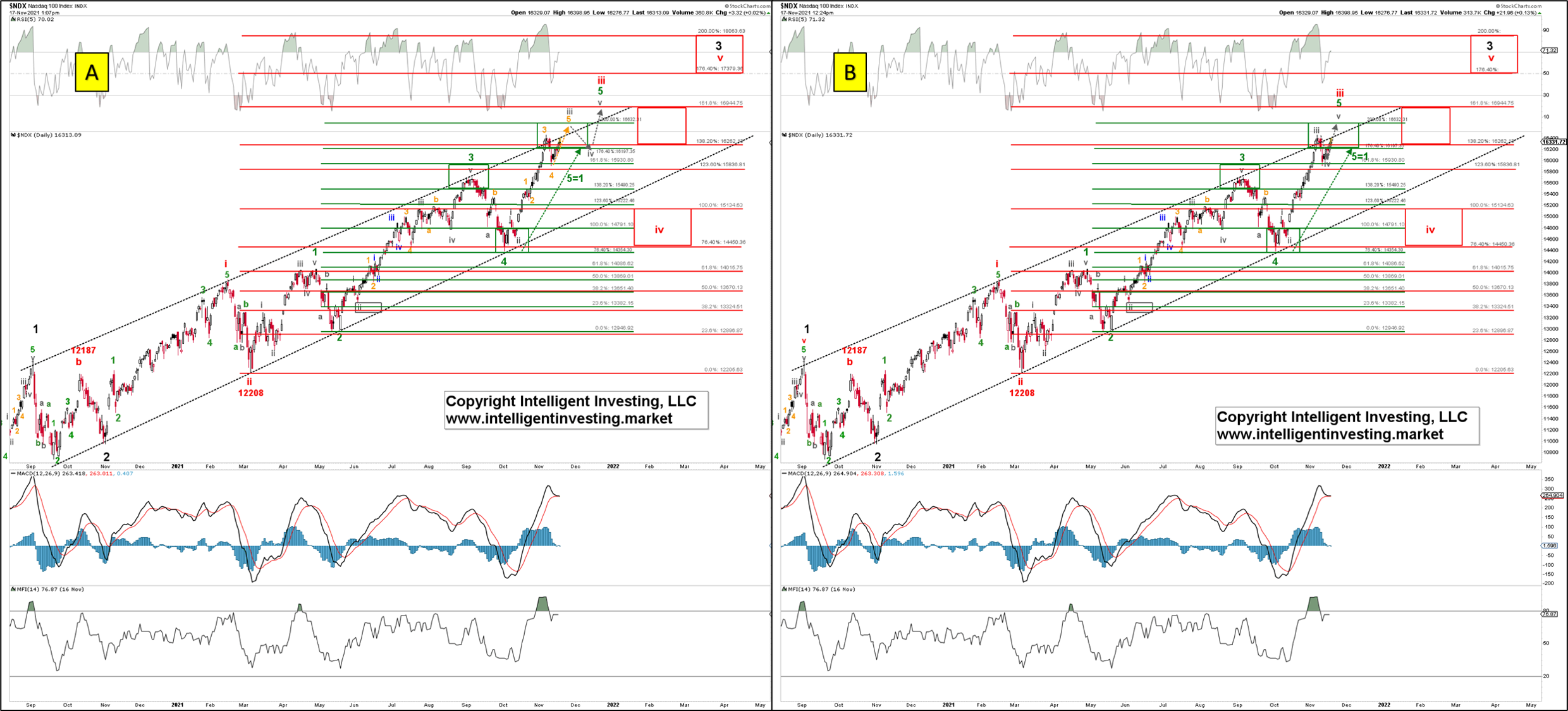 The first option (Figure 1A) has the NDX in (orange) micro-5 of (grey) minute wave-iii, of (green) minor wave-5 of (red) intermediate wave-iii. For now, this is as many wave degrees as I would like to focus on. It means we should see a local top soon (all of minute-iii), ideally around $16.6K+/-200. Then a minute-iv decline to ideally around $16.2K+/-200 followed by a final minute-v wave to ideally $17K+/-200. This last wave will then complete intermediate-iii, and from the EWP, we know after the 3rd wave come the 4th and 5th waves. Besides, at ~$17K, the index has reached the (red) 161.80% Fibonacci-extension of wave-i, measured from the (early March) wave-ii low. A classic, standard, typical 3rd wave target. If reached, I anticipate wave-iv to drop back to, ideally, the 100% Fib-extension at around $15135 before wave-v rallies the index to $18K+ to complete (black) major wave-3.
The second option (Figure 1B) is the index will directly rally to $17K+/-200 for all of (grey) minute wave-v, which in this case may then only target the (green) 200% Fib-extension at ~$16.6K. Close enough to the as mentioned earlier ideal (red) intermediate wave-iii upside target.
At this stage, there's no way knowing just yet which of these two reasonably bullish, albeit short-term, options the market will take. But as long as the index can hold above last week's $15,905 low, we should look higher. Hence, as always, please know the time frame you are trading because once ~$17K is reached, in my opinion, the downside risk increases 10-15%, before the next 20% rally starts.
Besides, the Santa Rally may, therefore, not arrive this year, but that does not mean the bull is over. Far from it.