 3 Stocks To Watch In The Coming Week: Walmart, Home Depot, NVIDIA
With the majority of mega-cap earnings results already released, this coming week's reports will be all about retailers and their forecasts for the crucial holiday season amid accelerating prices and supply-chain disruptions.
Investors will also be watching for updates on the ongoing shortage of workers and the impact of all of this on retail sales and prices. After U.S. climbed by the most in three decades last month, economists are forecasting more pressure ahead. 
October's YoY rate was 6.2%, the highest since 1990, as price increases spread well beyond the parts of the economy most disrupted by pandemic closures. Below, we've short-listed three stocks which could see some trading action after they report their quarterly numbers during the week ahead: 
1. Walmart 
America's biggest retailer, Walmart (NYSE:) reports its fiscal 2022, third-quarter earnings on Tuesday, Nov. 16, before the market opens. Consensus anticipates EPS of $1.40 on revenue of $135.43 billion.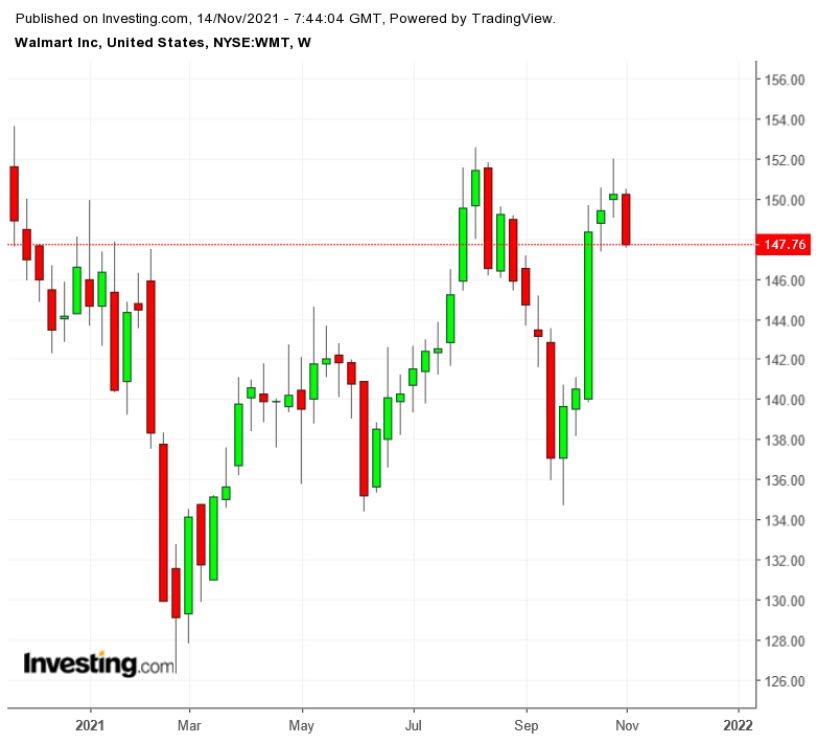 Walmart has been a net beneficiary during the pandemic as customers, staying home during lockdowns, stockpiled grocery items and consumed more daily staples. The Bentonville, Arkansas-based retailer, however, has warned investors this year that it expects a and profit for the year as consumers take a break from their pantry-loading habits, developed during the pandemic.
According to the retail giant, earnings per share will decline slightly in the current fiscal year, with US comparable sales nonetheless staying in positive territory. Even as the pandemic's impact gradually tapers off, the performance of Walmart's stock has not been impressive this year, rising just 2%, against the 25% surge in the Index year-to-date. Shares of Walmart closed on Friday at $147.76.
2.  Home Depot 
Home improvement giant Home Depot (NYSE:) will also report its Q3 2021 earnings on Tuesday before the market opens. Analysts expect $3.41 a share in profit on sales of $34.89 billion.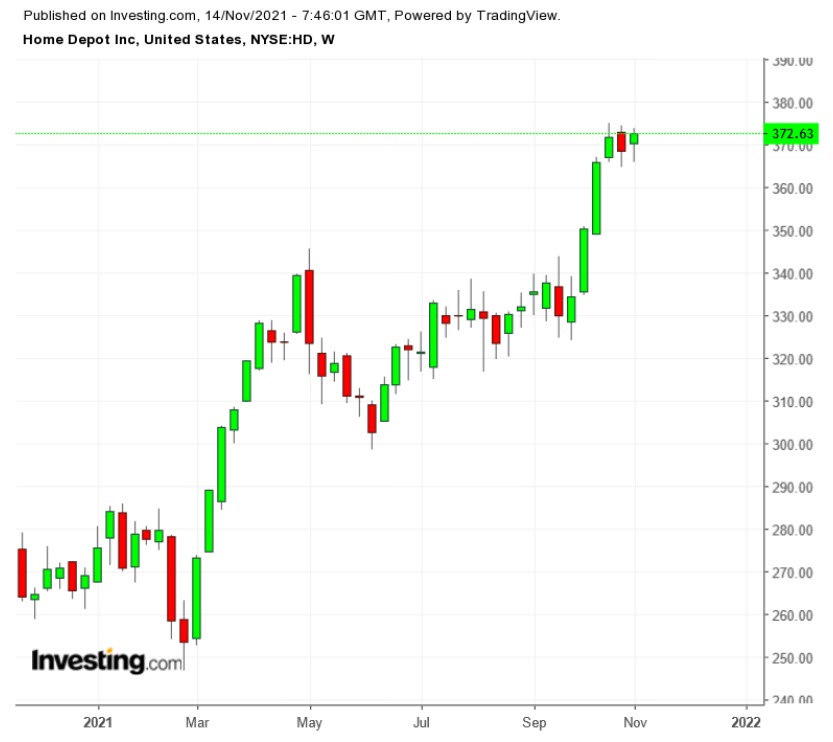 HD has been another pandemic retail beneficiary as consumers, stuck in at home, spent more money on renovations and setting up in-home offices. But that trend is reversing as the economy reopens and homeowners move their spending from do-it-yourself projects to formerly stagnant avenues, like travel and non-home-based entertainment.
Home Depot reported same-store , a key metric in retail, rising 4.5% in the period ended Aug. 1, missing the 5.6% average of analysts' estimates. Same-store sales soared more than 20% in the previous four quarters, showing a historic expansion for the Atlanta-based retailer.
These uncertainties have slowed HD stock's upward trajectory as investors fear a slowdown in the business's momentum going forward. Shares closed on Friday at $372.63, after gaining 4% during the past three months.
3. NVIDIA Corporation
Semiconductor giant NVIDIA Corporation (NASDAQ:) will report its Q3 earnings on Wednesday, Nov. 17 after the market close. Analysts expect the chipmaker to produce an EPS of $1.11 on revenues of $6.82 billion.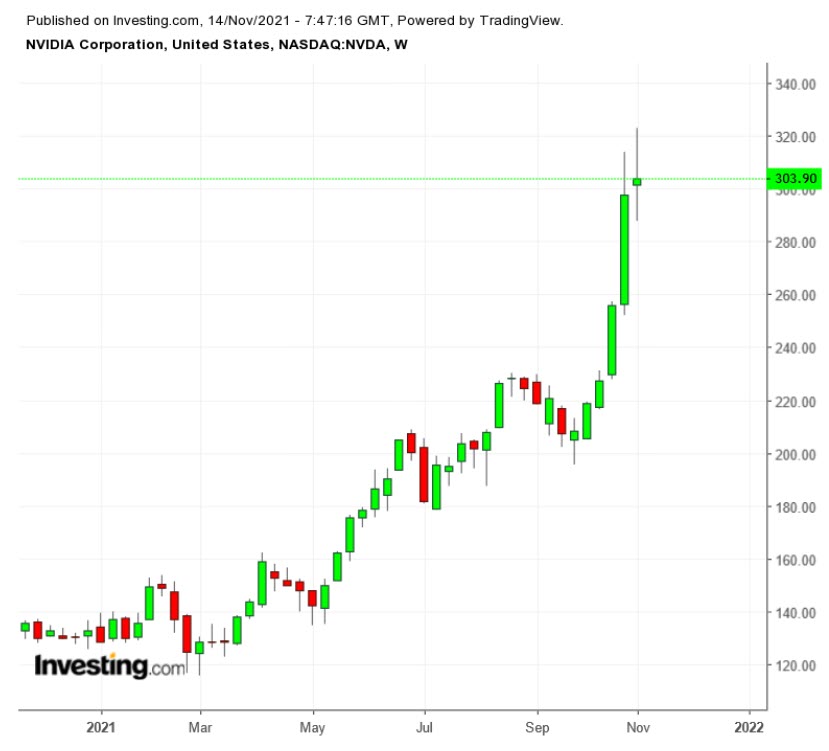 The Santa Clara, California-based chip manufacturer is the biggest producer of graphics chips used in personal computers and gaming. Over the past few years, NVDA has successfully adapted its technology for the Artificial Intelligence market, creating an additional, new, multi-billion-dollar line of business.
Due to swelling demand from these sectors, the price of NVDA stock has more than doubled this year, massively beating other players in the game. After this eye-popping rally, expectations are high that the company will produce . The stock closed at $303.90 on Friday.