 After Jumping 30% In Just A Month, Have AMD Shares Become Too Expensive?
Shares of Advanced Micro Devices (NASDAQ:) continue to surprise even the most bullish forecasters. The stock has gained about 30% in the past one month, about 63% year-to-date. Shares closed up 10% on Monday.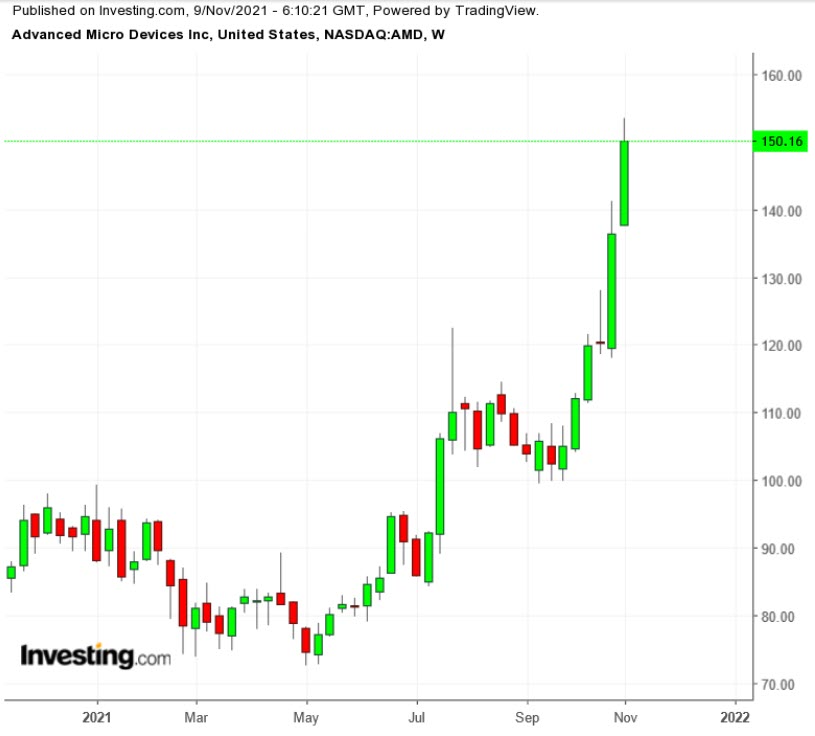 This powerful rally has investors wondering how much longer the momentum could last, and whether the chipmaker is trading ahead of its fundamentals. The latest evidence suggests these gains are backed by a solid competitive advantage that Santa Clara, California-based AMD has achieved over the past five years versus its industry rivals.
As well, yesterday's surge was driven by the news that social media giant Meta Platforms (NASDAQ:), more familiarly known as Facebook, said it had chosen AMD's EPYC chips for its data center.
Last month, AMD delivered blockbuster yet again, along with a strong forecast for the fourth quarter, suggesting the pandemic-driven boom for electronic products is far from over.
AMD expects $4.5 billion in sales in the fourth quarter, fueled by the company's computing and graphics segments. That represents 39% growth when compared with the same period a year ago. If the company is able to deliver this expansion, sales for the current fiscal year will grow by more than 50%.
AMD continues to gain market share from its close competitor Intel (NASDAQ:), which is now projecting roughly flat growth for 2021.
According to Mercury Research, Intel lost about four percentage points of share to AMD in the server processor market for the second quarter, compared with the prior year. That trend is likely to accelerate, with third-party reviewers confirming the dramatic performance advantage of AMD's EPYC processor over Intel's products.
Until recently, Intel's data center unit served more than 99% of the market for chips that are at the heart of corporate networks and internet infrastructure. But that lead is under threat given the years of stumbles in Intel's manufacturing operations.
Alphabet's (NASDAQ:) Google Cloud division said in June it will offer cloud-computing services based on AMD's newest data center chip. Cloud-computing providers like Google and Amazon (NASDAQ:) are some of the biggest buyers of data center chips.
Improvement in Margins
AMD is also better positioned to perform when chip shortages are hurting many players in the industry during the COVID-19 pandemic. What differentiates AMD is its long-term relationship with its main supplier, Taiwan Semiconductor Manufacturing (NYSE:), which runs some of the world's leading chip producing plants. This year, TSMC said its "high-performance computing" segment, where AMD's business resides, will be a "major growth driver" for the foundry company.
Amid a robust sales environment, AMD is also succeeding at keeping costs under control in order to increase its profitability. Its gross margin was 48% in the third quarter, up from 44% during the same period last year as customers were willing to pay more for the company's chips. It forecast gross margins at 49.5% in the fourth quarter.
These gains have prompted many analysts to upgrade their price targets for AMD stock for the next 12 months.
BofA Securities reiterated a buy rating and raised the price target to $150 from $135. AMD shares closed on Monday $138.92.
Wells Fargo also reiterated an overweight rating on the stock and raised its price target to $145 from $120. Hans Mosesmann of Rosenblatt Securities wrote in a recent note that AMD's "David vs. Goliath" story is just now being taken seriously by investors; Mosesman raised his price target to $180 from $150. He added that AMD's busines is experiencing:
"…stronger than expected demand, share gains, and better than expected execution on supply related constraints."
Bottom Line
There are many powerful catalysts helping AMD continue on its growth trajectory. These include its successful product launches, gain in market share, and expansion in margins due to cost controls.
As long as these factors remain in play, AMD stock doesn't look expensive even as it continues to trade near all-time high levels.